Rugby parent banned for tripping under-16s player
By Adrian Warner
BBC Sport
Last updated on .From the section Rugby Union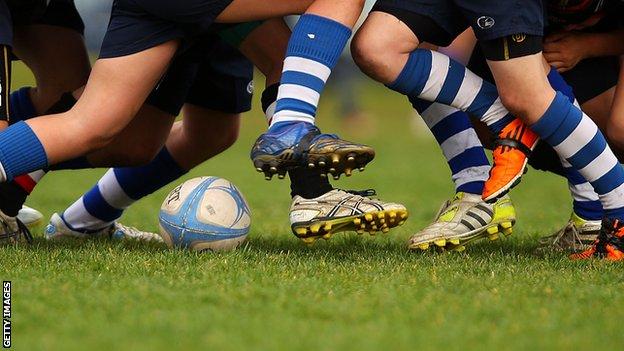 A parent who tripped up an under-16s rugby player during a cup final in Hertfordshire has been handed a two-year touchline ban by the Rugby Football Union, the BBC has learned.
The incident, in last month's game between Watford club Fullerians and Royston, attracted widespread publicity in the UK and abroad after a photograph showing the father stepping on to the pitch was published in newspapers and on social media.
"The person involved has been banned from standing on the touchline for two years," an RFU source said.
"One year of the ban is suspended so he can return to watch games in a year, depending on good behaviour."
The punishment was handed out following an investigation by the Hertfordshire RFU with advice from Twickenham officials.
Fullerians bosses had originally banned the man for six matches and put him on probation.
Royston, who cruised to a 64-5 victory in the Hertfordshire Shield Cup final, looked about to score another try when the father was caught on camera sticking out a foot to make contact with a Royston player with the ball.
The trip sent the youngster flying, incensing parents on the sidelines. The player was unhurt.
The RFU does not want to identify the father involved but the incident in question was caught on camera.
Youth matches are usually roped off to keep spectators back from the touchline. Some ropes were in place for the game but officials said the man had walked around the pitch away from them.
Fullerians say the action was "out of character" for the father involved and that "he had apologised to everyone".
The RFU is concerned about the rising incidences of inappropriate touchline behaviour and in the past has sent out letters to clubs, encouraging spectators to show respect to referees and opposing teams.