Kellock and Cusiter admit mistakes cost Glasgow in final
Last updated on .From the section Rugby Union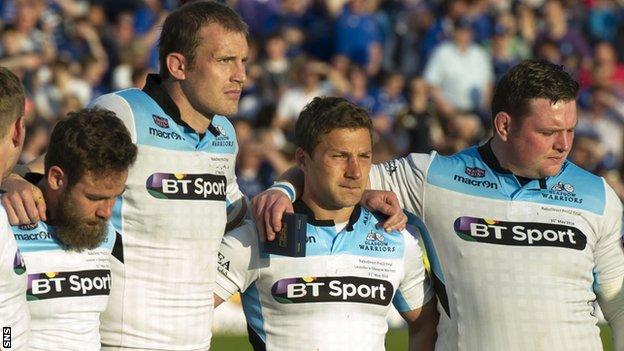 Scrum-half Chris Cusiter and skipper Al Kellock admitted Glasgow were well below-par in their Pro12 final defeat to Leinster.
"We didn't played our best game. We made too many mistakes," said Cusiter.
"We've come so far this season and felt we were coming here with a good shot, but we just didn't play well enough."
Cusiter, who was playing his last game for Glasgow ahead of his move to Sale, said Warriors paid the price for failing to take several first-half chances.
"They are a good team, we hung in there at 14-12 for a long time, we just couldn't make that breakthrough," he added.
"In the first half at times, we really did have them under the cosh in their own 22 - pinned back - but we would make a mistake and let them out.
"It's a final and you just can't afford to waste those opportunities.
"There was no lack of effort, but you've got to be accurate and we were not accurate enough."
And skipper Kellock echoed those sentiments, admitting Leinster fully deserved to retain the title at the RDS Arena.
"They just controlled it better. They didn't make any mistakes. They were clinical," he said.
"We got into their half at times, but we just made too many mistakes, probably because we were always chasing the game.
"We came out here and gave it everything and we've got to learn lessons.
"We talked about doing what we have in the last nine weeks and we didn't really come out and execute it.
"We made more mistakes probably in that game than we have in the last four or five games and that's hard. It's a final.
"We gave everything and it didn't stick, but I'm proud of the boys, I'm proud of the effort all season, proud of where we are and we've got to keep going.
"When you lose in a final, there are two ways you can go. We want to take one more step. We want to be winning this."