Rugby's concussion issue under the spotlight

By Tom English
BBC Scotland
Last updated on .From the section Rugby Union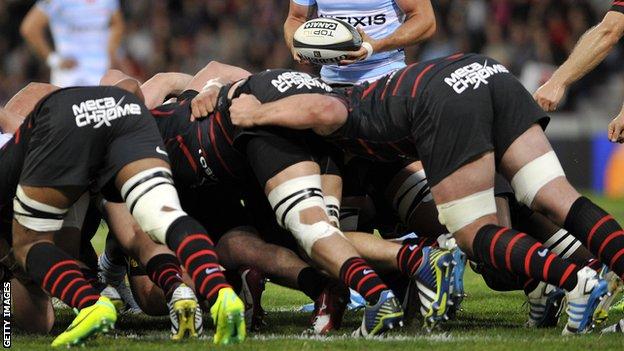 While rugby spent the past week looking back on the glorious careers of two of its departing heroes, Jonny Wilkinson and Brian O'Driscoll, there was forensic analysis of a very different kind going on elsewhere close to the game.
Last Tuesday morning, at the Coroners Court in Dublin, it was found that a former amateur rugby player, whose family had donated his brain for research, had died prematurely because of repeated blows to the head on the field during his rugby years.
The coroner, Dr Brian Farrell, accepted evidence from two neuropathology experts, one of whom was Dr Willie Stewart, a consultant neuropathologist at Glasgow's Southern General Hospital and a world leader in the examination of head trauma of sport.
The findings were that Kenny Nuzum, a prop forward with the Lansdowne club in Dublin and a former team-mate of the legendary Moss Keane, passed away in March last year because of chronic traumatic encephalopathy (CTE). In layman's terms, punch-drunk syndrome.
Nuzum died at the age of 57. His tragic story is recounted by Brendan Fanning in a powerful piece for Ireland's Sunday Independent.
In his day, a highly combative player with a history of on-field concussion, Nuzum's wellbeing noticeably deteriorated around 2006. He began to suffer acute memory loss, imbalance and disorientation. He was diagnosed as having progressive supranuclear palsy (PSP), a rare brain disease. He later contracted pneumonia and organ failure and died.
His family decided to donate his brain to the brain bank at Beaumont hospital in Dublin. Professor Michael Farrell, a neuropathologist with a background in rugby, examined Nuzum's brain. "At the back of my mind all the time was, 'Could it be CTE'?" he told the Sunday Independent.
"When I began to see the changes around the blood vessels then it dawned on me that this was not ordinary PSP."
Professor Farrell consulted with Dr Stewart, who also examined Nuzum's brain. "In my research I've seen a lot of cases of CTE but this was one of the most severely affected I have seen, particularly in such a young man," said Dr Stewart.
CTE shot to prominence in America when thousands of families of former NFL players joined together in a class action lawsuit against the league's governing body. The players had suffered repeated head trauma during their careers. Many died having experienced severe CTE.
The families sued successfully and were awarded more than $700m in damages because of the negligence of the NFL in failing to alert them to the dangers of repeated head knocks.
Experts such as Dr Stewart have warned in recent years that rugby could have a major problem on its hands with CTE. The disease is, at the moment, only detectable in autopsy. Earlier this year, the brain of an Australian player, Barry "Tizza" Taylor, was examined on death and he was found to have CTE. The link has now been established further through the Nuzum case.
Concussion has become a major talking point in the game as awareness grows that it's not just boxers or American footballers or ice hockey players whose life after sport can be destroyed because of injuries sustained, and largely ignored, during their active years. Many experts have called it a ticking bomb in rugby. Dr Barry O'Driscoll, uncle of Brian and a leading voice on concussion in rugby, has said the sport's attitude to head trauma is akin to Russian Roulette.
O'Driscoll resigned his position on the International Rugby Board in protest at their concussion protocols.
In recent times, numerous rugby players have spoken out about their own experiences of concussion and how it is the greatest crisis facing the sport. Among others, Rory Lamont of Scotland, Lewis Moody of England and Bernard Jackman of Ireland have all recounted harrowing tales. Alex Corbisiero, the England prop, recently said that he didn't know one professional rugby player who had not suffered a concussion and a sub-concussive blow. He also called the IRB's concussion tests "laughable".
The most shocking testimony came on Saturday from Shontayne Hape in a column he wrote in the New Zealand Herald.
Hape played rugby league for Bradford and New Zealand. He then switched codes and played union for Bath, London Irish and, latterly, Montpellier while also winning 13 caps for England. In January, at the age of 33, he retired after suffering at least 20 concussions and black-outs. He'd read about a young player in Auckland who died after suffering a head knock in a game and decided enough was enough.
His story ought to send shockwaves throughout rugby. "DJ-ing is my hobby," he wrote. "But the effects of the concussion meant I couldn't bear to listen to music. The sound was too much. Sunlight was a problem too. I had to stay in a blacked-out room for days. I'd bike to training and by the time I'd get there my head would be throbbing and I'd have to go home to rest.
"My tolerance for my three young kids was zero. I was always angry around them, couldn't even last a minute without getting cross and losing my cool."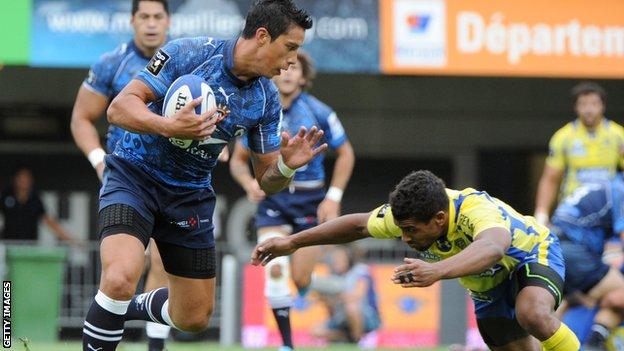 He'd experienced concussion for years but the end came when he went to play for Montpellier. He got concussed in his fifth game for the club but, keen to justify his big salary, he declared himself fit to play again the following week and got concussed again.
"It was just slight tap but it got me in the wrong place," he said. "This time I was really worried. They rested me for a week. That's the French rest. Normally you'd have two-four weeks of doing nothing. In France it was 'okay we'll rest you for a week and you'll be fine'.
"There was constant pressure from the coaches. Most coaches don't care about what happens later on in your life. It is about the here and now. Everyone wants success. They just think 'if we pay you this you are going to do this'.
"Players are just pieces of meat. When the meat gets too old and past its use-by date, the club just buys some more. You get meat that's bruised or damaged, the club goes and buys some more."
He had constant migraines and memory loss. At the hospital in Montpellier they gave him tests for memory and vision.
"They show me seven or eight pictures of, say, a tree, couch, bird or a bike," he explained. "When they turned the page and asked me what I'd just seen I could only remember one or two things. The specialist showed me on chart the average score for someone with a normal brain. My score was just above someone with learning difficulties.
"The specialist explained that my brain was so traumatised, had swollen so big that even just getting a tap to the body would knock me out."
He says he worries about Alzheimer's and dementia, adding: "The doctors can't tell me what is going to happen to me in 10 years' time. Research has shown that's when it catches up with you.
"I'm not telling my story because I want sympathy. I'm telling it because this is an issue people, particularly young players, need to know about. More people need to speak out about it, tell the truth if they are suffering. Most players won't, though, for fear of being thought of as soft or because of the financial pressures."
Since the piece appeared on Saturday all manner of rugby people have tweeted their support and admiration for Hape for having the bravery to tell his story so honestly. Sir Clive Woodward, Rory Lawson, Dylan Hartley, Toby Flood, Danny Care, Nick Easter and others have taken to Twitter to raise awareness of Hape's words.
But is the game listening? Too often the IRB is defensive when these issues are raised.
Last Thursday on BBC Scotland there was a debate about the dangers of concussion in rugby. Lamont was part of the programme. So, too, Dr Stewart and Barry O'Driscoll. The IRB was also asked to give an interview. It declined.