London Welsh: Justin Burnell says club need 12 to 15 signings
Last updated on .From the section Rugby Union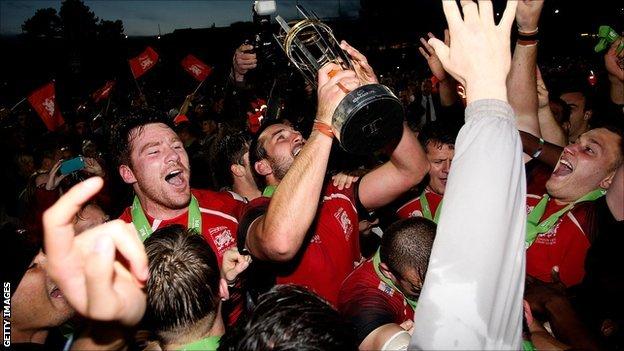 London Welsh head coach Justin Burnell says the club need 12 to 15 new players after winning promotion to the Premiership by beating Bristol 48-28 on aggregate in the Championship final.
But Burnell warned there would have to be heavy recruitment in the summer.
"We'll have to realistically look at 12 to 15 additional members for the squad and that doesn't mean all first choice," Burnell told BBC Radio 5 live.
"You've got to strengthen in those numbers to accommodate all competitions."
Among the players already linked to Welsh are Bristol pair Dwayne Peel and Anthony Perenise, who are to be made available on loan for next season.
"We need to recruit obviously," added Burnell. "It's pointless going up there just making the numbers up but we're also under no ridiculous illusion that we're going to do more than stay up. Our primary target is purely just that."
Chairman Bleddyn Phillips has promised new additions but believes the Oxford-based club are stronger then two years' ago when they earned their place after appeal.
"What a terrific performance," Phillips told BBC Radio Oxford after Wednesday's 21-20 second-leg win at Bristol.
"That sums up London Welsh and we are worthy champions. It's a true testament to the character of this squad. We'll have a few new signings but I think we are in a lot better shape then we were two years ago."
The players themselves were left to reflect on two fine wins over Bristol which capped a memorable season for the club that moved to Oxford United's Kassam Stadium two years ago.

They were expertly steered to victory by fly-half Gordon Ross who paid tribute to his side's forwards.
"We were on the ropes for a lot of tonight but the strength and character got us through and we got our rewards," Ross told BBC Radio Oxford. "The forwards really manned up and they were outstanding.
"Credit to Bristol; they came out firing but our defence was strong. We will enjoy tonight and each other's company for a few days and then start thinking about next season. Justin Burnell has done a fantastic job and everyone really worked hard for each other."
Scrum-half Chris Cook added: "It's an immense feeling, we didn't do it the easy way conceding but we pushed through to the end and I am just delighted and happy to be in the Premiership next season.
"We left the best performance until last, we worked hard for each other in defence."
Cook also hopes promotion will increased the profile of the club as they look to increase their supporter base in the county.
"We hope to draw in bigger crowds as it's an untapped area for rugby," he said. "What a great day for the club."
Victory was sealed by Seb Stegmann's late try and he said he was relieved to have ended a mammoth season on a high.
"I can't believe it," he told BBC Oxford. "I had nothing left when I collected the ball, I thought I was going to knock on. I couldn't believe it. Bristol are a great side and the last 10 minutes was so stressful and I just wanted the whistle to come."