Scotland coach Vern Cotter happy with ambitious goals

By Alasdair Lamont
BBC Sport on tour with Scotland
Last updated on .From the section Rugby Union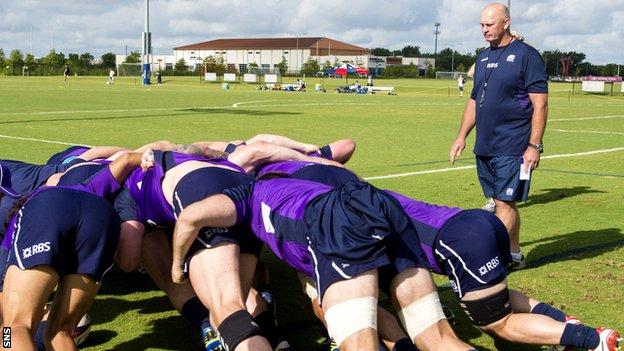 Vern Cotter believes it is good for Scotland to have high expectations such as the ambition to win the World Cup.
However, the new head coach's immediate priority is getting to know his players over a four-Test summer tour.
In 2012, Scottish Rugby chief executive Mark Dodson outlined a four-year plan, which included securing a Six Nations Grand Slam and winning the World Cup.
"I think it's positive to set high goals," said Cotter. "It just expresses a desire for Scotland to do well."
Cotter reign begins in earnest with Sunday's match against USA in Houston, Texas, with visits to Canada, Argentina and South Africa to follow.
And the 52-year-old New Zealander is relishing the prospect of improving the fortunes of a nation currently ranked 10th in the world.
"Rugby is developing and evolving every year and we have to do the same," he added. "There is a great challenge ahead of us.
"We start 15 months out (from the World Cup), there has been some great work done before, and we'll work as hard as we can."
Former Clermont coach Cotter has been in the job less than a week and insists the short-term aim is to focus on doing the basics well.
"We're keeping things very simple, trying to be as pragmatic as possible," he explained ahead of Sunday's game.
"It's a dry track, so we'll try and generate a bit of speed in our game and try to control play as best as possible.
"There are already some good structures in place, so it's really just trying to add value. We don't have a lot of time to develop things and I don't want to create confusion.
"I look forward to getting to know the players; seeing how things function and how we can grow and develop.
"There are some new caps for this game, so it will be interesting to see what they bring."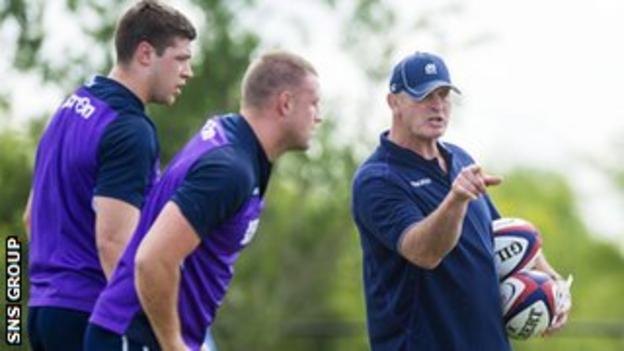 Glasgow Warriors duo Gordon Reid, 27, and Finn Russell, 21, plus London Irish forward Blair Cowan, 28, will win their first caps in Houston.
"I'll respond to what I see and it's important the players do the best they can for the team and their team-mates and that creates competition for spots.
"We've not got all the players available to us but we have a big, mobile forward pack and a big, strong backline. We'll just need to learn to adapt to conditions and the opposition.
"There is a good leadership group within the team as well.
"We're just starting, so it's important to play well and then challenge ourselves to play better the week after.
"It's a long, hard trip but it's important in terms of what happens next. It's challenging but I think the rewards will be good."