Guernsey boss says RFU league changes are 'catastrophic'
Last updated on .From the section Rugby Union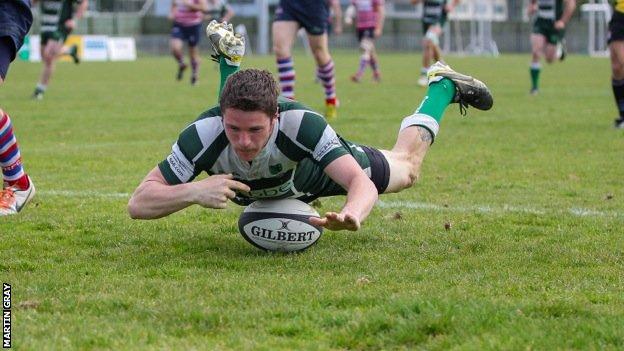 Guernsey boss Jordan Reynolds says plans to restructure lower league rugby in England could be "catastrophic".
The Rugby Football Union is planning to create an extra division at National Two level and eight regional leagues at what is currently National Three level.
"If we weren't in the top four next year we'd have to move back to London One," said Reynolds, whose side play in National Three London.
"That would be catastrophic for us," he told BBC Radio Guernsey.
"We've worked really hard to get up to National Three and to be pushed back through the new regulations wouldn't be great for us," he added.
The plans have been drawn up to try and reduce the cost associated with rugby outside the top three tiers of the game.
Under the plans the Premiership, Championship and National One will all remain as nationwide leagues.
But National Two North and South and the four National Three regional leagues will be merged to form three regional leagues at what is National Two level and eight 12-team leagues with a national cup competition at what is currently National Three level.
"I don't think they've really thought it through," Reynolds said.
"Once this happens I think you'll see clubs going out and getting huge loans and trying to push themselves into that top four, that's the scary kind of thing that could happen.
"The people that are playing and coaching are involved in the grassroots rugby and the guys sat behind their desks are probably not to grips with that.
"I think they should be listening to the people who actually play the sport first instead of making decisions behind a desk."