Scotland: Finn Russell tipped for cool debut against USA

By Alasdair Lamont
BBC Sport on tour with Scotland
Last updated on .From the section Rugby Union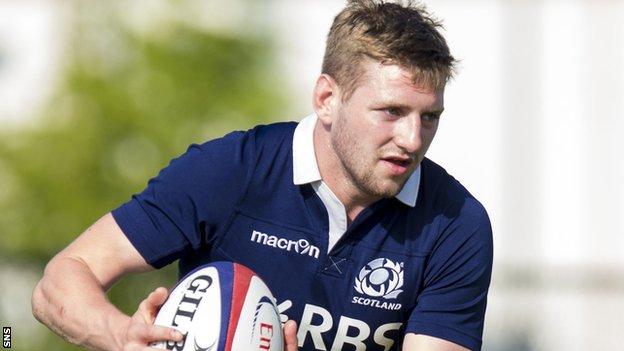 Scotland captain Greig Laidlaw is ready to coax Finn Russell through his Scotland debut but does not think the young fly-half will need much help.
"I'll be looking to help him out in his first outing in international rugby, but he won't need a host of help from me," said scrum-half Laidlaw.
"He's got a cool head on his young shoulders and that is a good trait."
Russell is given his chance along with London Irish forward Blair Cowan and prop Gordon Reid, with whom the 21-year-old shared some fine form as Glasgow Warriors finished the season with a strong run to the Pro12 final.
"Finn, he deserves to have his place in the starting line-up," Laidlaw told BBC Scotland. "All the boys are delighted for him.
"He's come off the back of a very good season with Glasgow, who had a good run, and Finn was a very big part of that. He played extremely well.
"He's a confident player, he's a talented player. If he just backs himself and his own ability, and enjoys the game, I'm sure he'll be fine.
"But I'm certainly going to try to take pressure off him when I can, as all good scrum-halfs will do."
Laidlaw pointed out that Russell would not be the only player desperate to prove his worth to New Zealander Cotter.
"It is always an interesting time," he said. "Boys are always a little bit more on edge when a new coach comes in.
"Training can be a bit tetchy and boys getting stuck in, which can only be a good thing for the Scotland team - boys wanting to push on to that next level and show Vern what they're all about.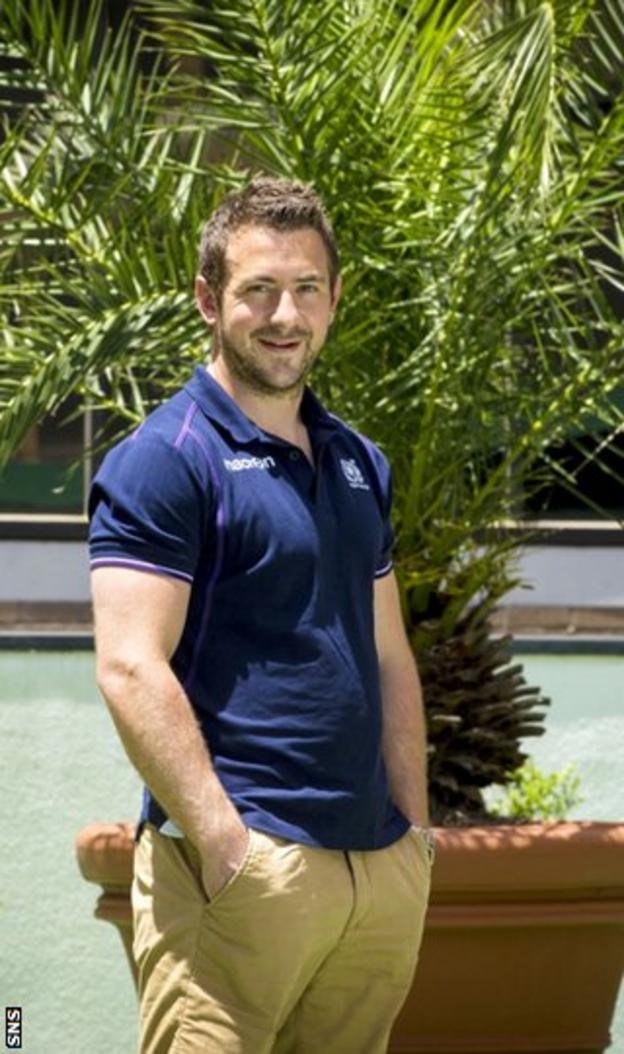 "I'm sure you're going to see that in the game here."
Laidlaw said Cotter had only made minor adjustments to their usual preparation but had stressed a desire to see a greater try count.
"Vern's an experienced coach and wasn't going to change a whole host of things in the first week he's in the job," said the captain.
"He's brought in a couple of things he wants. The most important thing is he brings an intensity to training but also he wants us to go out and have a bit of fun out there and score tries."
Laidlaw admits that the Scots need to be wary of the the Texan heat.
"It is going to be tough with the conditions," he added. "It is pretty warm here - it is about 90% humidity, so it's got its own challenges.
"But, in terms of the game itself, the Americans are tough in the contact, they are going to fly into us, so it's important we meet them on the game line and really knock them back in defence and I think that'll give us a foothold in the game to go on and win it.
"We want to play a high tempo game. We believe we'll be fitter than the Americans, so we're going into the game to play rugby.
"The kick-off's not until 7.30 at night, so the sun should be down and the worst of the heat will hopefully be out of the way for us."