Wales: Warren Gatland sidesteps South Africa age issue
By Richard Williams
BBC Wales Sport
Last updated on .From the section Rugby Union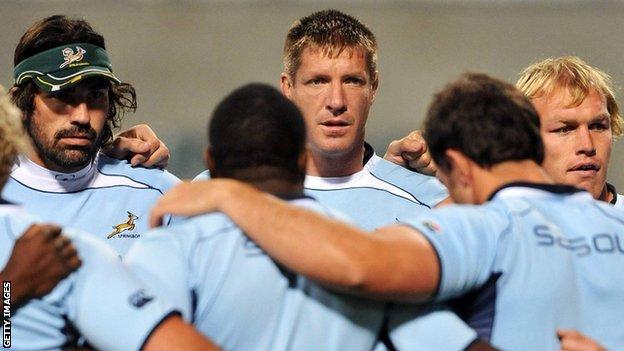 Warren Gatland was a no-nonsense hooker in his playing days with Waikato and New Zealand.
But the Wales coach produced a sidestep worthy of Welsh fly-half legend Phil Bennett when he was asked to pass comment on the return of veteran forwards Victor Matfield, 37, Bakkies Botha, 34, and Schalk Burger, 31, to the Springboks team.
South Africa coach Heyneke Meyer's policy of recalling highly-experienced veterans of South Africa's 2007 World Cup victory led a local reporter to ask Gatland whether he would call this Bok's pack 'Dad's Army'.
Laughing, Gatland replied: "No . . . no I wouldn't."
So the headline got away and Gatland mounted a reasoned defence of Meyer's decision - one which is dividing opinion from the Western Cape to Northern Transvaal.
"The average age is 29, and if you look back at the history of World Cups that's kind of been the average age of the teams that have traditionally won," said Gatland.
"In fairness to Meyer those are players that he knows personally.
"He's worked with them for a long time and he's gone back to players that he trusts and players that have performed and delivered for him and you can't argue with that.
"There's a lot of people out there sort of questioning the older players coming back and [saying] there should be a lot more faith put in youth.
"But it's his prerogative to pick players that he wants.
"And [these are] players that have won World Cups and Super Rugby titles and Tri-Nations titles as well. You can't argue with what they've achieved."
Wales face the Springboks in Test matches at Durban on 14 June and Nelspruit on 21 June.
Before then they play a warm-up game against Eastern Province Kings on Tuesday, 10 June where Gatland - by contrast with his South African counterpart - has four uncapped players in his starting line-up.
With a squad of 32 on tour it means a large number of the 23-man squad who play in Port Elizabeth will face a four-day turn around for the Test in Durban.
That, said Gatland, was a key factor in the decision to schedule a warm-up match on this tour.
"The big part of this tour in wanting this game has been planning and preparation for next year's World Cup and trying to cope with a short turn around," he said.
Results around the world on Saturday will also have made an impression on Gatland.
As he spoke to the media in the Welsh team's Durban base, Australia were scoring 50-plus points against France.
Earlier an impressive England were pipped 20-15 by the All Blacks in Auckland.
The significance of those results is that Wales will face England and Australia in the pool stages of the 2015 World Cup.
With 14 months to go before the tournament, coaches are looking to put down the sort of markers the Wallabies did and England so nearly achieved.
History and the bookmakers suggest the odds are against Wales making a similar statement against the Springboks.
Wales have won only once away against one of the southern hemisphere's big three - and that was in 1969 when they beat the Wallabies 19-16 at Sydney Cricket Ground.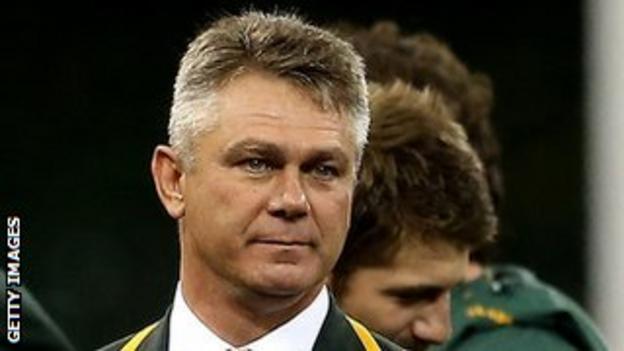 The 22-21 win over a 14-man Australian side in the third place play-off of the 1987 Rugby World Cup was at a neutral venue in Rotorua in New Zealand.
Wales have won a Test in South Africa, albeit the small comfort of a 57-10 1995 World Cup Pool D match win over Japan in Bloemfontein - their only triumph at that tournament.
That was a dire period in Welsh rugby history, but Gatland is operating in somewhat more favourable circumstances.
Even so, with two Six Nations Grand Slams and a championship during his tenure as coach, Gatland has only Australia's 2008 scalp among the major southern hemisphere powers to his name.
But he insists Wales are in South Africa to win.
"We haven't come down here to make up the numbers," he said.
"We've come down to play some rugby and to build and get some confidence and hopefully to win the series.
"The last time we were here in 2008 we were well beaten by South Africa in the first Test and came back. And in the second Test I thought we were unlucky.
"We were in front, had a couple of rough calls I thought that went against us and it was a close game."
Wales have played South Africa 27 times, with a win in a half-built Millennium Stadium in 1999 and a draw in a Cardiff Arms Park mudbath in 1970 their best results.
A win now might give Australia and England food for thought - and leave Meyer, not Gatland, to deal with the age issue at media conferences.