David Moffett: Ex-WRU chief 'closes Twitter account'
Last updated on .From the section Rugby Union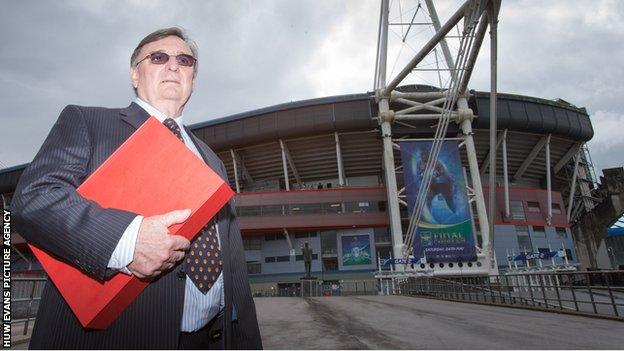 Uncertainty surrounds the whereabouts of former Welsh Rugby Union chief David Moffett, just days before the union's extraordinary general meeting.
Moffett appears to have closed his Twitter account amid speculation he is returning to New Zealand.
The former WRU and regional rugby Wales CEO has campaigned against the current board.
A message on his website wishes people attending Sunday's EGM in Port Talbot good luck.
Moffett forced the meeting after claiming support from 43 member clubs - including the four professional regions.
A no confidence vote at an EGM could force elected members to leaving, giving the New Zealander the opportunity to return to the union.
Moffett presented a 17-point manifesto in March which proposed more money for grassroots rugby alongside a better relationship with the regions, and a promise to renegotiate the WRU's debt.
Though Moffett said that an EGM would not be an attempt to get approval for his manifesto, instead "the clubs will be fully consulted and have the final vote on any proposals put forward by a new board on any aspect of the governance and management of the WRU."
But the New Zealander has left a message on his website which states "this is my last communication."