Dragons: Kingsley Jones wants Welsh region to challenge
Last updated on .From the section Rugby Union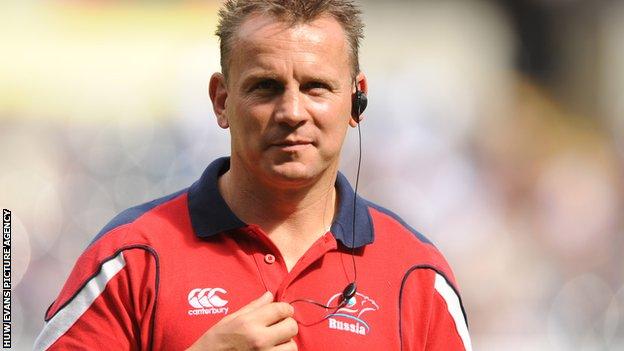 Newport Gwent Dragons head coach Kingsley Jones wants the Welsh region to finish in the top eight in his first year in charge.
The former Wales captain wants his side to improve on the league form that saw them finish ninth in the Pro12 last season.
"The measure of that will be in the top eight as opposed to the bottom eight," said Jones.
"We've just got to keep improving. I think it's big picture as well, over the next three years we really need to be challenging.
"We don't want to be known as the 'fourth region' for too much longer, that's the first thing we want to try and avoid.
"We were only a couple of wins last season away from being in that top half, so that's what our target is for the first year at least."
Jones initially joined the Dragons as an assistant coach in June 2013, when he was also in charge of the Russian national team.
But he left his international role in May 2014 citing family reasons, and he believes that his position at the Dragons will be made easier as he can give it his entire focus.
"First and foremost, I'm here regularly," said Jones. "I was with Russia for the whole of the Six Nations, probably three months of the year.
"I think it's just a matter of me being here every day and doing the job, being 100% focussed on the Dragons."
And the Welshman added that he was looking forward to his new role, as well as simply being back in Wales.
"It's a great honour for me to come back to the region I was born in and grew up in," said Jones. "To be involved with the Newport Gwent Dragons is great.
"I am looking forward to the next few years here, we've just moved to a new state-of-the-art training facility, it's fantastic.
"So there's a new start and hopefully there'll be things to cheer about in the future, especially with so many young players in their 20s in the world cup at the moment from the Dragons."