New Zealand v England: Tourists must take chances - Guscott

By Jeremy Guscott
Rugby union analyst, BBC Sport
Last updated on .From the section Rugby Union275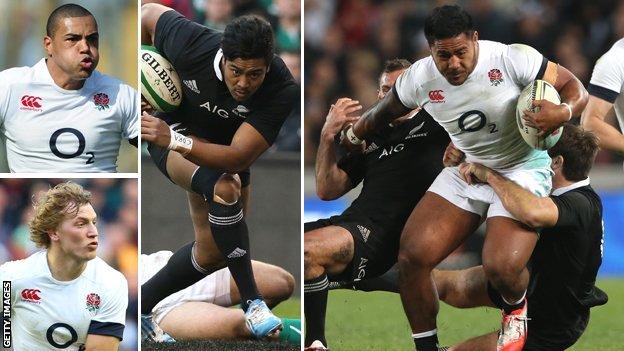 When Martin Johnson's England side beat the All Blacks in Wellington in 2003, it was a massive step on their way to becoming world champions later that year.
The timescale is a bit different this time - the World Cup is still 16 months away - but England must be thinking they can put a real marker down once again in New Zealand.
They could, and maybe should, have beaten the world champions in the first Test last week.
And now, with a team strengthened by the arrival of half-a-team's worth of first-choice players, they will have real belief they can level the series at 1-1 in Dunedin on Saturday.
Ring the changes
England have made five changes, plus two positional, to their starting XV from last weekend and also brought in a host of big names on the replacements' bench.
Tom Wood is back on the blind-side flank, Owen Farrell and Danny Care return in the half-back roles and Billy Twelvetrees and Luther Burrell resume their centre partnership.
As a result, Leicester's Manu Tuilagi, normally a centre, shifts to the wing, and it will be interesting to see if he can have the same impact he did from 13 in Auckland.
There is a picture from Saturday's match of several All Blacks desperately hanging on to him while New Zealand captain Richie McCaw tries to pull him back and it captures his impact perfectly - he is Lomuesque.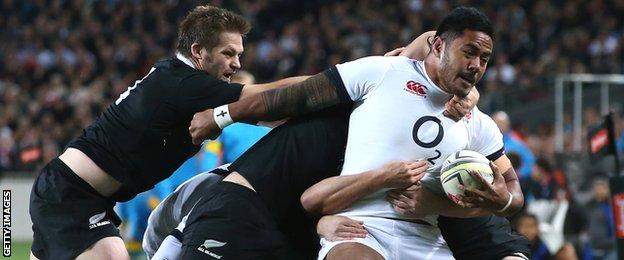 Last weekend was not the first time Tuilagi has had a big influence against New Zealand: he was man-of-the-match in the win over the All Blacks in 2012, which remains the last time the world champions lost.
He has had his best performances against them and he is a real threat. No matter what they say about not worrying about the opposition, they know they have to have a strategy for him.
Pros and cons of Manu on the wing
He may have played a lot of schoolboy rugby on the wing but this is a massive step up from that.
If you are a good runner, then in some ways it doesn't matter what position you play, but you have to adapt to the nuts and bolts of wing play and there is no way he is used to fielding kicks and working with his full-back.
New Zealand have also made a positional change, with Ben Smith moving from wing to full-back, but the difference between someone like Smith and Tuilagi is that the former is a complete footballer.
He can run, pass, kick and read the game in a nanosecond. He has played wing, outside centre and full-back for the All Blacks - in fact, he could probably play fly-half.
What he doesn't have is Tuilagi's power; he just wants to run straight through someone, or over someone, or through a hole.
Today's main tackling technique is to go high - man and ball - to prevent the offload. But Tuilagi is so strong that, if you don't do that right against him, he will just use you as a springboard to batter his way onwards, as we saw in the first Test.
He has to make an impression and being on the wing he will get more space to do that, but no doubt he will feel exposed when it comes to defending.
I was a centre but on the couple of occasions that I came on as a replacement for England on the wing, I felt like I had the whole world outside me - there's just so much space and you continually feel as though you need to call your team-mates over to close it down.
In attack he has to keep his depth, come on to ball and really hit it, rather than taking it standing still like Jonny May did in the first Test. I would get him in the game right from the off - look for him playing off nine, 10 and 12 in midfield as well as causing havoc out wide.
We should also remember that New Zealand have weaponry of their own on the wing - the recalled Julian Savea is big, quick and athletic - and if Tuilagi thinks about it he'll realise he'll have a lot to handle in defence.
Tough calls
Nobody should feel they've been dropped. Twelvetrees and Burrell were the men in possession from the Six Nations and, with the former now over his injury and the latter available after the Premiership final, it would have been unfair to have left them out.
Mind you, it could have been justified after the way Kyle Eastmond and Tuilagi did in the centres in the first Test.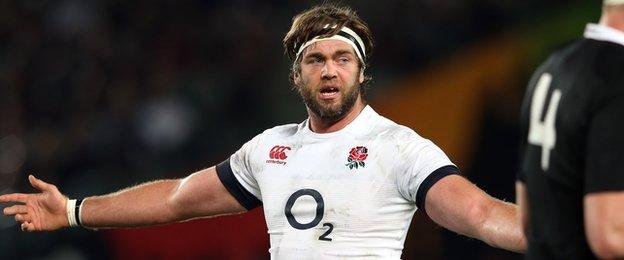 I would have expected to play but would have understood if I didn't, which is the situation some of the guys on the bench find themselves in.
Ben Morgan keeping his place at number eight may be down to the fact Billy Vunipola has been injured and only fairly recently returned, plus he's played a couple of very hard finals.
Geoff Parling perhaps retains his spot ahead of Courtney Lawes - another to have played back to back finals - because of how well the line-out went last week.
Lawes has really upped his game in the past 12 months - it's like having another back rower in your team - but Parling is a very good decision maker, he judges the game well and he is a leader on the pitch.
With Dylan Hartley, Ben Youngs and Chris Ashton also among the replacements, that is a really strong, powerful bench and there is no doubt they can have an impact.
England must take their chances
England should be both pleased and disappointed with last week.
They had opportunities to win the game, creating four chances to cross the line, but did not take any. New Zealand had two and nailed one - when Conrad Smith scored the only try of the game - and that was ultimately the difference.
There is much more pressure on England to deliver in Dunedin than there was last weekend because nobody outside their camp expected them to do as well as they did in Auckland. This week has to be another step up.
There is a lot of deflection coming out of the New Zealand camp at the moment about how the result was so close because they played badly but those were not unforced errors the All Blacks made - England forced them into making them.

England also beat a defender on 22 occasions and made eight clean breaks in comparison to 13 and five by the hosts. If New Zealand had created as many opportunities, they would have been out of sight.
There's been plenty of chat about how New Zealand will get better with each game but the same applies to England. And although there's a lot of changes from the first Test, this side is used to playing together from the Six Nations.
Having said that, there's massive pressure for these guys to come in and continue what was started last week, and the chat coming out of the camp this week from the likes of Joe Marler, Mike Brown and Farrell suggests they are relishing the opportunity.
This match is the ultimate test for England boss Stuart Lancaster so far - not many northern hemisphere sides travel south and get over the line to win against one of the giants.
Bring that power to bear
Last weekend, England won about 15 clean balls at the line-out well and they need more of the same in Dunedin.
One weapon they could maybe use more is the driving maul from the line-out because they made good ground in Auckland and New Zealand seemed to struggle with it.
England will have to repeat their good work at the breakdown and, although they did well with their tackling, I don't like how narrow their defence is.
Having the players so close together leaves space out wide and I'm sure New Zealand will look to expose them there, but there's no doubt England had the edge in the scrum and I expect that to be the case again.
So who is going to win?
This is an exciting time for England; they have come on so much and should be looking to win both this week and next week.
They are putting themselves in match-winning situations and the next stage for this team is to take their opportunities to win big games like this.
Prediction: If England make 90% and above in the tackling stats, they will win by a score. If they don't make their tackles and slip down to 85%, they will lose by two scores.
Jeremy Guscott was talking to BBC Sport's James Standley.