Vern Cotter calls for Scotland to step up against Canada

By Alasdair Lamont
BBC Sport on tour with Scotland
Last updated on .From the section Rugby Union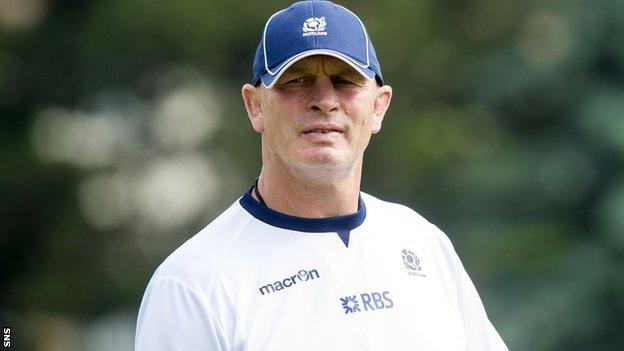 Scotland head coach Vern Cotter is looking for an improved performance against a Canada side he believes will be hurting from their defeat by Japan.
The Scots were beating the USA 24-6 as Canada lost 34-25 against Japan.
And Cotter feels that will make Canada doubly determined to beat his side in their second summer Test on Saturday.
"We're playing against a team that lost last week, they'll be angry, frustrated, and will want to do better," said Cotter.
"They were up by 20 points. Canada is a team that starts very well so we're aware of that and we'll have to apply our rugby with a lot of concentration in that first 10 minutes.
"We're expecting a lift all over the field and they will play right to the very end so it's a good challenge, a step up, and we're looking forward to it."
The USA match was Cotter's first in charge of Scotland, and he has already highlighted areas for improvement.
"Canada play a lot of rugby, and they play out of their own half, so if we can defend well and keep our shape and structure, we hope to be able to get a couple of turnovers from that," the New Zealander added.
"So we've worked on that and worked on getting out of our own half. There were a couple of occasions when we made life difficult for ourselves by not clearing and exiting our part of the field."
Glasgow Warriors centre Peter Horne is one of four changes to the side that saw off the USA.
And he is also wary of the wounded Canadians, who lost 25 unanswered points against Japan.
"Canada will be really disappointed with the result against Japan. In the first half they were very good and I'm not sure how they managed to let it slip," he said.
"They should never have lost that game and they'll be looking for a big response this week, which makes them really dangerous.
"They run the ball a lot and have some really talented backs that make line breaks. In quite a few matches they've left tries out there so we need to make sure we're really tight in defence and don't give them the opportunities.
"We don't want to slip up here, we got a win last week and really want to carry on that momentum."
Horne endured an injury-hit campaign but is relishing the chance to get some game time in Toronto after being called up last week following an injury to Duncan Taylor.
And after his first few days of working under Cotter, he has been left impressed by new man's approach.
"I was preparing for Argentina and South Africa then I got a call on Sunday morning. It's really exciting and it's been a whirlwind since," Horne said.
"I'm desperate to get out there. I've only played seven or eight games so I'm desperate to get every minute that I can.
"He [Cotter] demands really high standards, he doesn't take anything other than our absolute 100% effort so it's ideal. Training has been very very sharp."