Scottish teams withdrawn from British & Irish Cup
Last updated on .From the section Rugby Union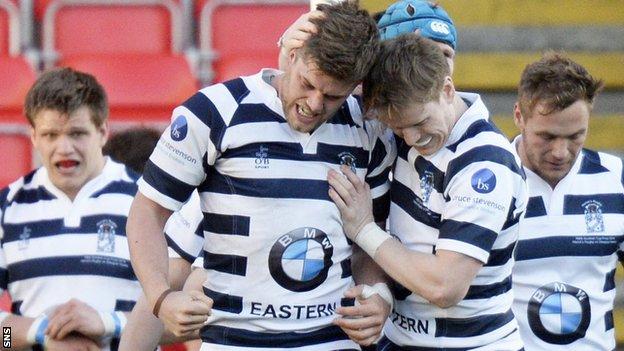 Scottish Rugby has announced that the top four Premiership clubs from last season will not compete in the upcoming British and Irish Cup.
Ayr, Heriot's, Gala and Melrose had qualified for the 2014-15 tournament.
But changes to the cup would require teams to play six of their fixtures before Christmas.
And Scottish Rugby believes this would "compromise the integrity" of the Premiership, its "flagship club competition".
"Discussions over the competition structure have been difficult and protracted, and we have done everything in our power to try to influence a solution that would meet the needs of all participants," said Scottish Rugby director of rugby operations Colin Thomson.
"Regrettably, this has not been achieved and the B&I Cup pool dates have been set for two blocks of three fixtures either side of the autumn international window.
"Given this, we simply could not support six B&I cup games in the first half of the season as this would have a significant impact on the integrity of our own Premiership competition.
"Scottish Rugby will continue to work with its clubs to find suitable cross-border opportunities."
Ayr president Billy McHarg added: "It's disappointing this decision has been reached. But, as far as Ayr are concerned, we just need to get on with it.
"The B&I Cup was an important tournament for building the quality of teams and raising playing standards at Ayr, particularly reaching the quarter-finals against Bristol three years ago and notable wins against Ulster and Jersey this season."