WRU board overwhelmingly survives 'no confidence' vote
Last updated on .From the section Rugby Union
The Welsh Rugby Union board has overwhelmingly survived a vote of no confidence at an extraordinary general meeting prompted by its former chief executive David Moffett.
After four hours of debate, only four club representatives voted to oust the current regime.
There were 18 abstentions, with 462 opposing the no confidence motion.
WRU chairman David Pickering said: "We've had a resounding vote of confidence".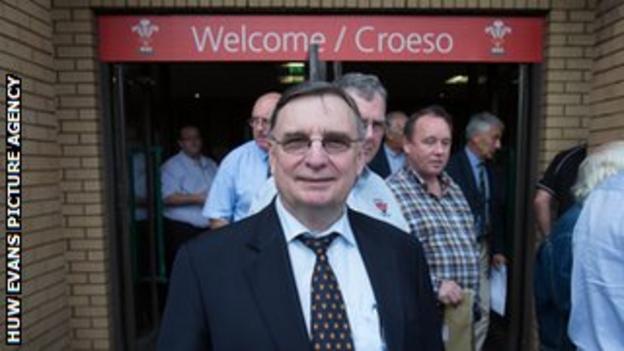 Pickering added: "Welsh rugby is continuing to evolve and now we must work together to make sure we build on our successes of the past and face up to our challenges of the future."
Board member and former Wales captain Gerald Davies made an impassioned and sometimes emotional speech to the meeting which was the first EGM since 2007.
Davies said the fact an EGM was needed underlined that WRU governance needed to change.
Former Wales wing Davies added the union was "not held in high regard, it is held in low esteem overseas... it is distressing we have this reputation… we need to restore common purpose, trust and unity,"
WRU chief executive Roger Lewis' predecessor Moffett had re-appeared for the gathering in Port Talbot after his whereabouts had been unknown.
New Zealander Moffett had won enough backing to see the meeting called and had hoped to win election to the WRU board.
Wales' four regions had joined 39 WRU member clubs who had backed Moffett's call for an EGM.
The 43 had accused the WRU board of not running Welsh rugby in the best interests of the game.
Debate at the EGM largely centred on restructuring of leagues and the governing body's financial affairs.
No vote could be taken on the league issue.
But at the end of that item on the agenda, chairman Pickering announced he would recommend to the WRU board that clubs were balloted on a way forward.
Moffett challenged Pickering and chief executive Roger Lewis over their financial handling of the union and their policy of paying Millennium Stadium debts.
But even before voting took place Moffett acknowledged a vote of no confidence was unlikely to succeed. saying: "I can smell the wind".
However, legal advice to meeting chairman Dennis Gethin, the WRU's president, was that there had to be such a vote, leading to the WRU seeing off the challenge, as it had predicted.
Asked afterwards if the meeting's outcome marked the end of his crusade, Moffett replied: "Oh of course it is, yes. "I managed to show the clubs that if they're upset about something they can call an EGM.
"They should not be cowed by the WRU and they should listen to what Gerald Davies had to say."
Meanwhile chief executive Lewis said after the meeting the WRU now wanted to focus on running Welsh rugby as the game develops at professional and amateur levels.
"We have all learnt lessons from this debate and we will ensure the dialogue we have engaged in today continues to help us develop and improve," Lewis added.
Regional Rugby Wales acting chief executive Mark Davies said they voted with the majority of clubs and in favour of the WRU board.
Davies, who is also Scarlets chief executive, added: "The context of a vote of no confidence...that is a question for the clubs.
"There are 320 clubs, there's only four regions so we're going to be led by the clubs at that point."
Moffett also said Regional Rugby Wales - which represents Newport Gwent Dragons, Cardiff Blues, Ospreys and Scarlets - were as "culpable" as the WRU for the on-going dispute between the two sides over a new participation agreement. The current deal ends on 30 June, 2014.