WRU to ballot clubs over new amateur league format
Last updated on .From the section Rugby Union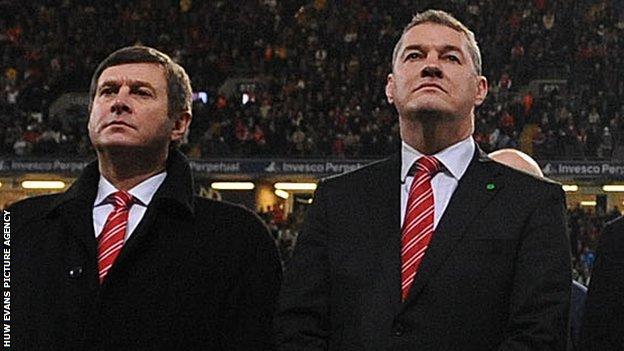 Welsh rugby clubs are being asked to vote on the format of the amateur national league.
At that meeting, the Welsh Rugby Union board overwhelmingly survived a 'no confidence' vote.
The WRU had proposed restructuring along more geographical lines.
No vote could be taken on the league issue at the EGM, but WRU chairman David Pickering announced he would recommend to the governing body's board that clubs were balloted on a way forward.
"At the EGM strong views were expressed on all sides of the argument," said Pickering.
"So it is vitally important the WRU finds out what the majority viewpoint is on this issue.
"The board of the WRU originally acted on this issue based on feedback we received within the club census which gathered data from more than 80% of our member clubs.
"It is now clear that there are other concerns amongst member clubs and some who originally advocated change have now reconsidered.
"Any change to our league structure is a radical move which affects the whole of the community game and the WRU must be prepared to listen to the voice of the clubs.
"Of course the final proposed structure could only be shared with clubs after the season ended and placings were confirmed and it is right and proper that our clubs based their opinions on that document.
Details of the ballot are to be sent to clubs on Wednesday, 18 June and the WRU says the feedback will be considered by its full board as soon as possible.