New Zealand v England: Tourists must take chances - Guscott

By Jeremy Guscott
Rugby union analyst, BBC Sport
Last updated on .From the section Rugby Union264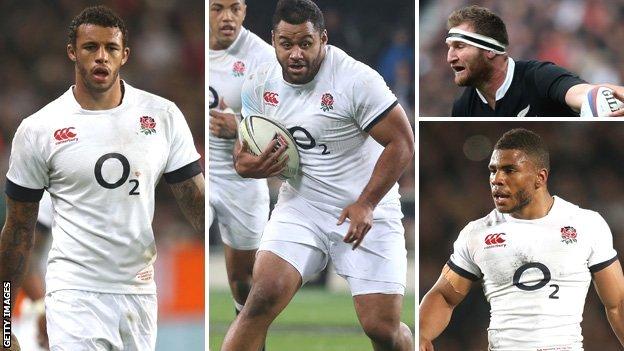 England might be looking at a series whitewash as they head into Saturday's final Test against New Zealand, but I am proud of the way they have played so far and expect more of the same in Hamilton.
The world champions are being questioned about their levels of performance and that is because England are pushing them hard.
I'm incredibly pleased for Stuart Lancaster's men - tell me a side that has been to New Zealand in the past few years and run them as close as England have in the past fortnight.
Some pundits have called for England to tighten up their game-plan in order to beat the All Blacks (and New Zealand coach Steve Hansen has had his say on the matter as well) but I don't think that's the way to go - they just need to raise their intensity to match their ambition and learn to take their chances.
In other words, don't go conservative, just do what you're trying to do better.
So how should England play?
There has been some criticism that England have been tricked into trying to play the sort of high-tempo game that New Zealand want them to produce, but I don't subscribe to that view.
Yes, it's important that teams play at a tempo they're comfortable with, and England should certainly look to use their rolling maul.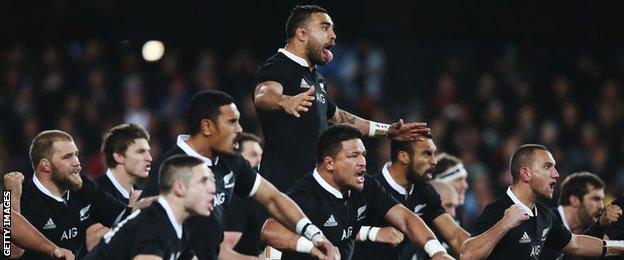 But to consistently beat top teams like the All Blacks you have to score tries, and to score tries you need to secure quick ball.
I think England are playing at a tempo they are comfortable with, but they're not yet comfortable with the required level of skill and execution.
We've also seen periods when the All Blacks have taken the game to a level of pace and accuracy that was too much for England to handle, notably that 30-minute period after half-time in the second Test when they blitzed England with three tries.
New Zealand's core skills are superior and their ability to execute them at a higher intensity is better than England's.
That is the gap they're trying to bridge and I'm not going to saying to England "don't play like that".
I accept that their skills aren't holding up under that intensity at the moment - but that's what they've got to work on.
Turning defence into attack
Intensity is not just about attacking; it applies to defensive line speed as well, as New Zealand showed when they came blasting up and forced turnovers in Dunedin.
The seven changes England have made include reverting to the centre partnership they had in the first Test - Kyle Eastmond and Manu Tuilagi - in place of Billy Twelvetrees and Luther Burrell, who were first choice in the Six Nations.
That shows how competitive it is becoming to get into this England team and I don't think the change has been made purely for attacking reasons.
The stats from the second Test are quite interesting because they highlight the number of tackles missed by England's players from nine to 13.
It was a big number compared with the first Test and I think that would have been a contributing factor to the centres being dropped.
The extra line speed in defence - how quickly defenders come up as a unit to tackle the opposition - provided by Freddie Burns and Kyle Eastmond at 10 and 12, compared with the injured Owen Farrell and Twelvetrees, means you can snuff out quite a bit of attacking threat and momentum.
There's a good moment five minutes into the first Test when the All Blacks win quick ball off the top at a line-out - when a jumper wins the throw and immediately feeds the scrum-half - and move it into midfield.
Burns is up lightning quick and although New Zealand recycle and still have quick ball, Eastmond is up really fast on Ma'a Nonu and manages to slow him down enough for England second row Geoff Parling to come in and secure turnover ball.
There was a bit of luck involved but the line speed of that defence working together squeezes New Zealand and puts the pressure on them.
More grunt up front?
I don't think England bringing back Dylan Hartley, Courtney Lawes and Billy Vunipola is muscling up as such, as powerful as those players are.
Rob Webber is bigger than Hartley for instance and certainly hasn't played badly - he's made a big case for himself at hooker and will be challenging Hartley and Tom Youngs for a starting place next season.

In 2012 Lancaster said he didn't want many of his players playing three Tests as they can become a bit stale, and that may be the reason for Webber and Joe Launchbury being dropped to the bench for Saturday - he's freshened up his starting XV.
After winning the Amlin Challenge Cup and the Premiership, Northampton duo Lawes and Hartley will be champing at the bit and won't want the season to end.
But I am slightly surprised Gloucester number eight Ben Morgan has been relegated to the bench in favour of Vunipola.
I think Morgan has made a big impact and seems to be running freer than Vunipola - notably with that break from his own 22 in the first Test that sparked a thrilling England counter-attack.
Vunipola seems to be playing a bit closer quarters to the breakdown but I think he's at his best running in slightly wider areas, as Morgan has been doing. The try against France in the Six Nations when Vunipola made the break and then offloaded to set up Burrell's try is a good example of this and something I'd like to see more of on Saturday.
The Flying V against Crafty Kieran
The respective number eights in action on Saturday play in contrasting styles.
England's Vunipola is more of a power-running big man - and I mean big - and he has the sort of impact that has people saying "look at this big fella" as he smashes through players.

All Black Kieran Read is more graceful, for want of a better word. I'm not sure most forwards would be pleased to be described as such but he has more flow to the way he plays, and he reads the game beautifully.
He has a more rounded game, making an impact in both defence and attack, he produces lovely deft touches with ball in hand and is good at offloading in and before contact.
He is the captain in waiting and if anything should happen to Richie McCaw, New Zealand have a ready-made replacement as skipper in the back row.
Read was by some distance the best player in the world last year. His performances were just incredible and he will add to the skill level of New Zealand and increase their intensity.
Centre sparks
There are three new faces out of four in the centres on show in Hamilton, with Ma'a Nonu the only survivor from the second Test, and there could be some real fireworks from the new guys.
Injured All Black outside centre Conrad Smith is a very competent and experienced player who is a leader and winner, while his replacement, Malakai Fekitoa, is at the opposite end of the experience spectrum.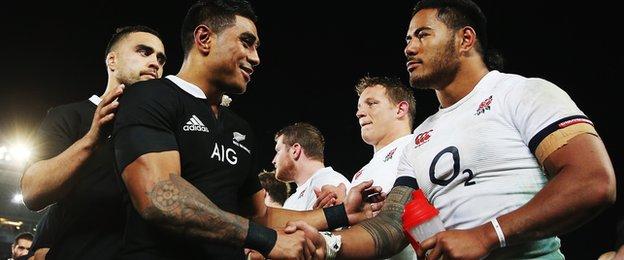 The 22-year-old Tonga-born centre will make his first Test start and this kid is electric - he's been ripping it up for the Highlanders in Super 15 and has the power to go direct and the pace to make outside breaks as well.
Fekitoa might be exciting going forwards but he's going to have his hands full with the power and pace of Tuilagi and the trickery and dancing feet of Eastmond in defence.
Tuilagi has been moved back inside from the wing, where he was last week, because he'll get more of the ball and therefore be more destructive.
So then, who's going to win?
I have an uneasy feeling England could get spanked, but I believe in what they're doing and I'll be surprised if they drop their level of performance - and New Zealand increase theirs so much - that the All Blacks run away with it.
The reason I'm uneasy is because I look back to that period after half-time in the second Test.
It was pure dominance and England could not live with it, so if New Zealand were to do that for 80 minutes…
England haven't helped their cause with a yellow card in each of the games so far, so they need to keep all 15 players on the field in Hamilton.
If England finish their chances they will win - but I suspect they won't so it's a clean sweep for New Zealand for me I'm afraid.
Jeremy Guscott was talking to BBC Sport's James Standley.