Exeter Chiefs prop Ben Sturgess aims for pre-season injury return
Last updated on .From the section Rugby Union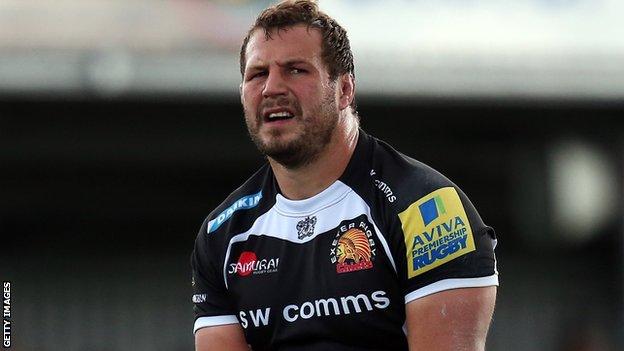 Exeter prop Brett Sturgess hopes to return to action in time for pre-season as he recovers from knee surgery.
The 32-year-old damaged knee ligaments in the at the end of December.
"We're hoping I can feature in the pre-season block of games if all goes well," Sturgess said.
"I'm 16 weeks post-op and I'm running and doing really good leg weights again and progressing next week to off-line running and upping the load a bit."
Sturgess has had a difficult couple of seasons with injury, having missed a large chunk of the 2012-13 campaign
Next season will be his eighth at Sandy Park after joining Exeter from Connacht in 2007.
"One of the disappointing things about the injury is that I wasn't able to get the starting jersey back.
"You're not guaranteed your place, but after previous seasons you may feel you're going into the next season holding the jersey," he said.
"This season I definitely know I'm going in as second choice and will need a good pre-season and perform in the pre-season games to try to get my place back.
"I don't like sitting on the bench behind anybody so I definitely want to be fighting for the position."