2014 World Cup: Wales Women 7-10 USA Eagles
By Lauren Jenkins
BBC Sport Wales
Last updated on .From the section Rugby Union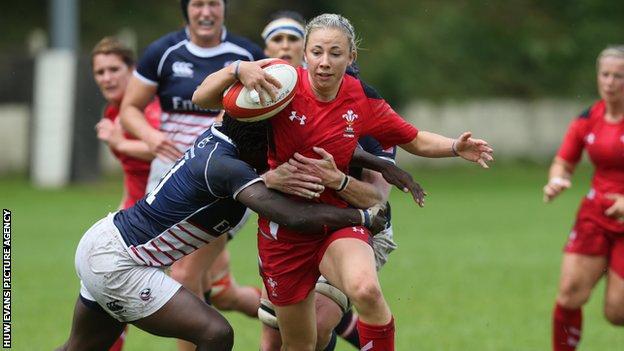 Wales Women narrowly lost their 2014 World Cup warm-up match against the USA at a wet and windy Cross Keys.
In a tight contest the Eagles struck first when winger Vanesha McGee crossed with fly-half Kimber Rozier adding the conversion to give the USA a 7-0 lead at half-time.
Wales fought back to level the scores through a Sioned Harries try and Laurie Harries conversion.
But the Eagles held onto win following a late Rozier penalty.
Wales face hosts France in the World Cup opener on Friday, 1 August in Marcoussis.
They were looking for a morale-boosting win against an Eagles side that finished two places above them at the 2012 tournament, in seventh.
Torrential downpours before the match made handling difficult at times at Pandy Park.
Wales started brightly and almost scored when Elinor Snowsill's pass put winger Dyddgu Hywel into space.
Hywel raced towards the corner, but knocked on after being tackled just short of the line.
The Eagles fought back and Wales eventually buckled under the pressure.
USA number eight Kate Daley broke through and centre Emilie Bydwell was quick to spread the ball wide for McGee to score with Rozier converting.
Wales dominated after the break and finally converted one of their chances as experienced number eight Harries broke clear of the Eagles defence to score underneath the posts.
Shortly afterwards Wales were penalised for coming in at the side of a ruck and Rozier kicked the penalty to give the visitors a 10-7 lead.
Wales continued to press, but were unable to take any of the opportunities they created.
Wales coach Rhys Edwards said: "Going into the game we didn't know much about them but we knew it was going to be a tough game, especially as they are ranked in the top five teams of the world.
"The scoreboard doesn't really reflect that so I'm pretty pleased with the performance.
"We created some chances against one of the best teams in the world - the difference being when they get a chance they score, we don't.
"We take two, three, four or five times to get on the score board. We've got to show some composure and a bit of belief, but we are certainly knocking on the door.
"We are improving and we showed that today. As we look ahead to the World Cup, we have another game against Ireland and there is no reason why we can't kick on from there and challenge in France."
TEAMS
Wales: Laurie Harries (Llandaff North); Adi Taviner (Neath Athletic), Elen Evans (Waterloo), Rebecca de Filippo (Bristol Ladies), Dyddgu Hywel (Bristol Ladies); Elinor Snowsill (Bristol Ladies), Sian Moore (Bristol Ladies); Caryl Thomas (Bath ladies), Lowri Harries (Neath Athletic), Catrin Edwards (Bristol Ladies), Jenny Hawkins (Llandaff North), Rachel Taylor (capt, Bristol Ladies), Catrina Nicholas (Llandaff North), Sioned Harries (Llandaff North), Nia Davies (Bristol Ladies).
Replacements: Carys Phillips (Bristol Ladies), Megan York (Blaenau Gwent), Cerys Hale (Pontyclun), Shona Powell Hughes (Neath Athletic), Sian Williams (Worcester), Robyn Wilkins (Llandaff North), Rafiuke Taylor (Pontyclun), Philippa Tuttiett (Bristol Ladies).
USA: Akilaini Baravilala; Sadie Anderson, Meya Bizer, Emilie Bydwell, Vanesha McGee, Kimber Rozier, Jossy Tseng, Sarah Chobot, Kathryn Augustyn, Jamie Burke, Carmen Farmer, Sarah Walsh, Jillion Potter, Lynelle Kugler, Kate Daley.
Replacements: Kittery Wagner, Hope Rogers, Nai Reddick, Lauren Daly, Sharon Blaney, Hannah Stolba, Sylvia Braaten, Deven Owsiany.
Referee: Claire Hodnett (RFU)