WRU member clubs vote for league revamp
Last updated on .From the section Rugby Union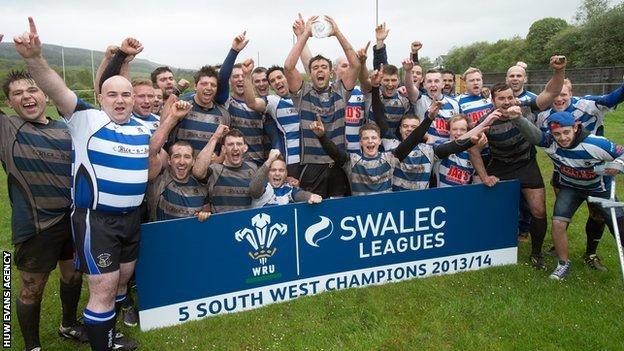 Welsh rugby clubs have voted for a restructure of the lower leagues.
No vote could be taken on the league issue at the EGM, but clubs were instead balloted on the issue.
A WRU statement read: "70% of clubs or affiliated organisations responded for or against and 61% of those voted to approve the new league structure."
The WRU board approved the league plan after receiving the ballot results
"The progress of the new league format will be monitored throughout season 2014-15 by a WRU working group and reviewed in May 2015," the statement added.
"An appeals panel with an independent and legally qualified chair is being established and is considering appeals from individual clubs related to their league placings in the new structure."
The WRU earlier said the league restructuring was prompted by concerns raised by some clubs in the 2012 WRU census, which included "travel costs, travel time commitments on players and volunteers, and the desire to restore local derby matches".