Scotland: Vern Cotter upbeat despite heavy South Africa loss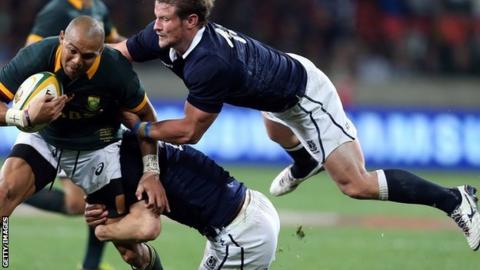 Scotland coach Vern Cotter tried to remain upbeat despite his side's heavy 55-6 Test loss to South Africa in Port Elizabeth.
The hosts scored eight tries as the Scots suffered defeat in the final match of their four-game summer tour.
"There was a little bit of fatigue," Cotter told BBC Radio Scotland.
"We came across a powerful side. I thought the guys showed character. It's been a positive tour. For players and staff, it's been good."
Duncan Weir converted two penalties as Scotland lost their first game under the new coach.
It brought an end to a summer tour that has given the Scots wins over the United States,Canada and Argentina.
"We didn't start the game particularly well," said Cotter. "We gave away penalties and field positions and they scored points from them, so that was disappointing.
"We didn't have hand on the ball and the penalties were killing us. I thought the referee was tough at times.
"We probably weren't quite as dominant in the tackle as we normally are."
Cotter gave number eight Adam Ashe his senior debut for Scotland and praised hooker Kevin Bryce after he came off the bench.
"The guys didn't give in," added Cotter. "It's just a case of taking away the stuff that doesn't work and repeating the stuff that does work.
"We need to start believing a lot more in what we can do."
Flanker Rob Harley thought the Scots played better than the scoreline suggested.
"At times we were playing well, keeping our structure in defence, coming off the line and hitting them," he said.
"When we weren't playing our best, they took advantage of it.
"That's something we need to aspire to get to, to be that intense all the time, all through the 80 minutes."
He added: "We've learned a lesson today but overall we're on an upward trajectory. We've had three wins from four."