Mike Blair: Scotland must heed harsh lesson in South Africa

By Mike Blair
Former Scotland scrum-half
Last updated on .From the section Rugby Union80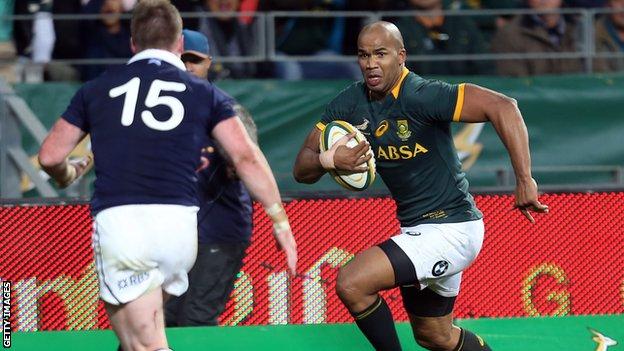 When an international team takes to the field, they do so with the sole purpose of winning.
The record books don't show how many people had jet lag, were out injured, or whether it was played outside the international window relinquishing Scotland of probably more than two-thirds of their starting team.
The bare facts are that Scotland conceded eight tries to a South Africa side missing several star names, scored none and lost the game 55-6.
The fortunate thing for Vern Cotter and his management team is that they do have a plethora of reasons - not excuses - for what happened in Port Elizabeth on Saturday afternoon.
Yes, of course the loss will hurt, but in terms of learning about fringe players and the job ahead of Cotter, I think it was a valuable lesson.
The disappointing thing was the manner in which some of the tries were conceded. Individual mistakes in skill execution and team system errors were too common.
The first score by the South Africans was pure power. There wasn't a huge amount Scotland could do to defend it, as the saying goes, "a big good 'un will always beat a small good 'un," and the Springboks are enormous.
The second try however will have infuriated defence coach Matt Taylor. It was a two phase set play and had Scotland stuck to their systems there wouldn't have been an issue.
Firstly, the fold of the forwards round the same way was too slow and didn't set, meaning Nick de Luca had to keep an eye on the South African forward runners leading to him being out of position, which fly-half Handre Pollard exploited.
I question the positioning of Stuart Hogg too. Much like when Italy scored in the Six Nations, I think 10m from your own line the full-back should be in the line adding an extra number rather than sitting in the secondary line.
The way Scotland defend they had Henry Pyrgos sweeping in behind covering the kicks so you don't need Hogg there too. This would have added an extra seven or eight metres of width to the defensive line and could have snuffed out the score.
The South Africans were slick, with their two waves of attack and multiple options, but Scotland made it look too easy in this instance.
In contrast, Scotland's first two attacks were indecisive and didn't have the deception needed against a team with the size and power of their opposition. De Luca was given the ball early to run into a brick wall - the result, a penalty turnover.
Scotland just didn't have the personnel to burst over the gain line. Once you make the gain line with the first phase the game becomes so much easier and, conversely, if you don't then you're swimming against the tide.
Scotland's first phase attacks were sloppy in execution and prevented them from building any pressure or momentum.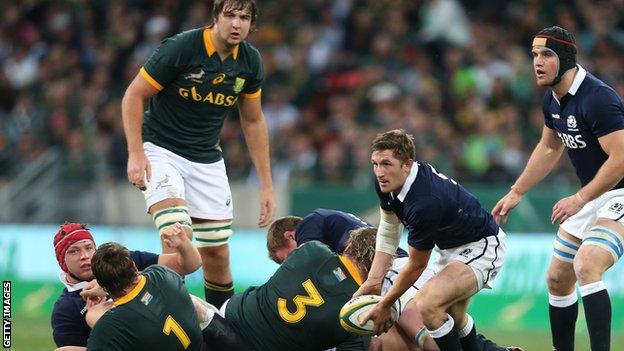 Having been really up against it after 20 minutes, Scotland were able to get a bit of a foothold in the game with some possession but shot themselves in the foot when Tim Swinson was yellow carded for a fairly innocuous late challenge. It was a harsh call but there was no upside in him doing it, so why risk it.
From the penalty, Marcell Coetzee scored his second try and the floodgates opened.
There are serious consequences to silly errors at this level. South Africa did look dangerous on the ball but look at the tries and how many involved a helping hand or error from the Scots.
On the positive side, I thought Pyrgos and Rob Harley were outstanding. The scrum-half was energetic and challenged the fringes very well. He posed questions before releasing the ball to his forward runners and if more players were on his wavelength then he would have caused even more problems.
Harley was a nuisance, in the nicest possible way. I thought he matched the South Africans for physicality in defence, making 10 dominant hits, and generally threw himself about with no regard for his own health. He is a key member of Gregor Townsend's Glasgow Warriors team and with performances like Saturdays he could become a key player for Cotter too.
Tommy Seymour also showed that he can make yards on the ball. He just keeps pumping his legs and fights for every metre.
From last summer's tour to the end of this one, 21 players have earned their first caps. This is an extraordinary number and points at a problem within the development system.
A number of players have been capped before having any significant game time for their senior professional team, not necessarily because they are exceptional, although there is obvious promise, but more out of need.
Until there is more exposure to high level rugby across a greater number of players Scotland will always be a couple of injuries away from being in a similar situation in a game that has far greater importance placed on it.