Women's World Cup: Lynch only new cap in Ireland squad
Last updated on .From the section Irish Rugby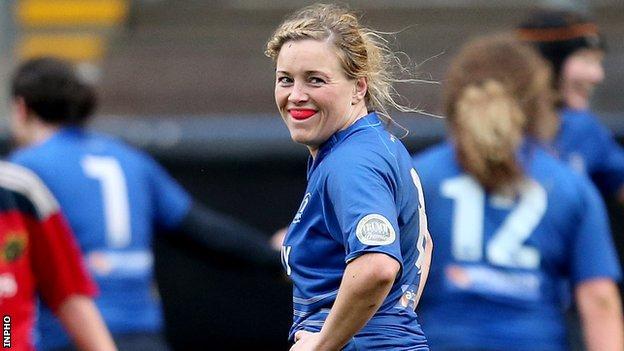 Leinster forward Sharon Lynch is the only new cap in a 26-strong Ireland squad for the forthcoming Women's Rugby World Cup in France.
The squad will be captained by Fiona Coghlan and contains an even split of 13 forwards and 13 backs.
Ireland are in Pool B, alongside USA, New Zealand and Kazakhstan.
Scrum-half Amy Davis, a regular in the squad during the Six Nations, has been ruled out through injury, so the experienced Tania Rosser is recalled.
"We have just come off the back of three weekends of intensive training and unfortunately we had to cut the squad to just 26 players which has been difficult," explained Ireland head coach Philip Doyle.
"Everybody applied themselves brilliantly and I would like to congratulate all for their involvement.
"Women's Rugby is at an all-time high in Ireland and with that comes great expectation. We are well placed for the tournament and are all looking forward to heading to France and getting started."
Ireland open their campaign on Friday 1 August with a tough encounter against USA, whom Ireland played twice in the previous Women's Rugby World Cup.
New Zealand are next up for the Irish on Tuesday 5 August, followed by a clash with Kazakhstan on Saturday 9 August.
Ireland won three of their five Six Nations matches earlier this year as they gave up their crown to France.
Ireland Women Rugby World Cup Squad: Forwards: Gillian Bourke (UL Bohemians/Munster), Fiona Coghlan (UL Bohemians/Leinster), Kerrie Ann Craddock (Saracens/Exiles), Ailis Egan (Old Belvedere/Leinster), Orla Fitzsimons (St Mary's College/Leinster), Siobhan Fleming (Tralee/Munster), Laura Guest (Highfield/Munster), Fiona Hayes (UL Bohemians/Munster), Sharon Lynch (Old Belvedere/Leinster), Claire Molloy (Bristol/Connacht), Heather O'Brien (Highfield RFC/Munster), Marie Louise Reilly (Old Belvedere/Leinster), Sophie Spence (Old Belvedere/Leinster).
Backs Ashleigh Baxter (Belfast Harlequins/Ulster), Niamh Briggs (UL Bohemians/Munster), Lynne Cantwell (Richmond RFC/Exile), Hannah Casey (Saracens/Exiles), Grace Davitt (Cooke/Ulster), Paula Fitzpatrick (St Mary's College/Leinster), Niamh Kavanagh (UL Bohemians/Munster), Alison Miller (Portlaoise/Connacht), Larissa Muldoon (Bristol/Exile), Jenny Murphy (Old Belvedere/Leinster), Tania Rosser (Blackrock/Leinster), Nora Stapleton (Old Belvedere/Leinster), Jackie Shiels (Richmond RFC/Exile)