Jersey Rugby Club to host their first ever floodlit game
Last updated on .From the section Rugby Union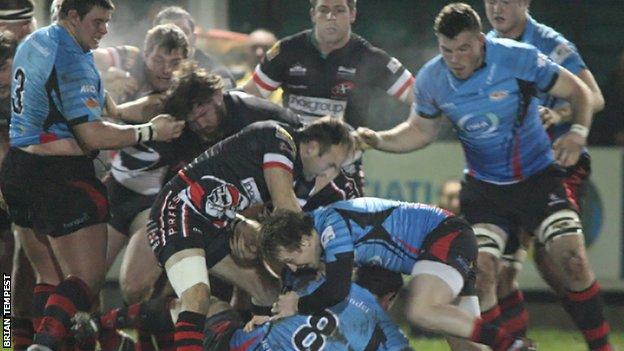 Jersey Rugby Club will host a floodlit match at St Peter for the first ever time when they face Plymouth Albion in the British and Irish Cup in November.
Jersey traditionally play their home fixtures on a Saturday afternoon and have been reluctant to experiment.
But the club have confirmed the clash with Albion has been scheduled for the evening of Friday, 28 November.
"We're looking forward to it and I think it's quite exciting," chairman Bill Dempsey told BBC Radio Jersey.
"We'll see how that goes and it gives everyone a different opportunity and possibly a free weekend after.
"We've looked at this in the last couple of years. We get quite a lot of people coming along on a Saturday and we've got a full house upstairs for lunch on a Saturday so we can't be silly with it."
The islanders are preparing for their third season in the Championship after narrowly avoiding the drop in both their campaigns in the second tier so far.
With average crowds of over 2,000, but with relatively little seating or cover for fans, Dempsey insisted club officials are working on how they can improve facilities.
"We were looking at trying to do something with a bigger stand and something will happen with that in the next couple of years," he said.
"We've got to time it into a year where we don't have the Siam Cup at home, which next year we do have, so maybe the season after that we can do something."
The club also confirmed the 11 home league matches would be staged on Saturday afternoons as in previous years.