Dragons chief Gareth Davies upbeat on Welsh rugby deal
Last updated on .From the section Rugby Union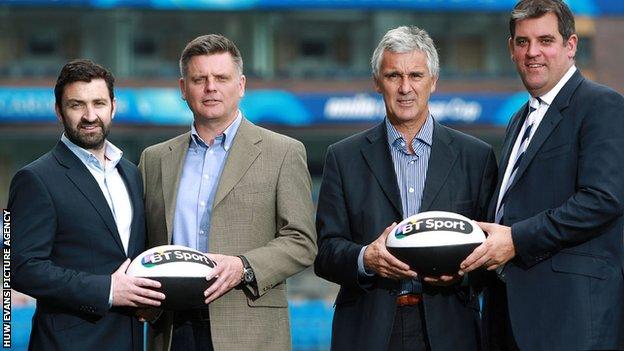 Newport Gwent Dragons' chief executive Gareth Davies believes the Welsh rugby dispute could be resolved in the next fortnight.
He is confident the Welsh Rugby Union (WRU) and Regional Rugby Wales (RRW) can agree a replacement for their Participation Agreement.
Davies insists something has to be in place before the start of the 2014/15 season in September.
"We ... have to resolve the issues over the next couple of weeks," said Davies.
The deadline for the Participation Agreement ran out on 30 June.
Nothing has yet been resolved over a new agreement which guarantees a set level of income and covers the release of players for Wales international duties.
"I don't think we are particularly looking at deadlines at the moment," added Davies.
"I think we are always getting nearer. Perhaps some of that is imposed by timescales. The season is upon us really - six-seven weeks away."
"I think the only thing we can say: is discussions are ongoing and we'd like to think we can come to a conclusion fairly soon."
Davies said there were continued financial worries for the four regions - Ospreys, Scarlets, Blues and Dragons.
"The deadline I suppose is the start of the season, although there are obviously financial pressures that will perhaps kick in way before that," he added.
"Each region is looking at its own business plan, I suppose what you could call a survival plan now.
"It's no different to what we have been doing since last October when some of the European funding was stopped. We have been in this sort of survival mode for the last seven, eight, nine months.
"That will continue for a while yet. I hope it's not too long because I think I would be diverting my energy and time doing more constructive things."
Mark Davies, the acting chief of RRW, said in May the regions and the WRU could be damaged if the two sides cannot reach a deal over funding.
"If we haven't got an agreement in place then that brings all of our businesses into question," he said.