Latu Makaafi: Jersey will replace Tonga forward, says boss Biljon
Last updated on .From the section Rugby Union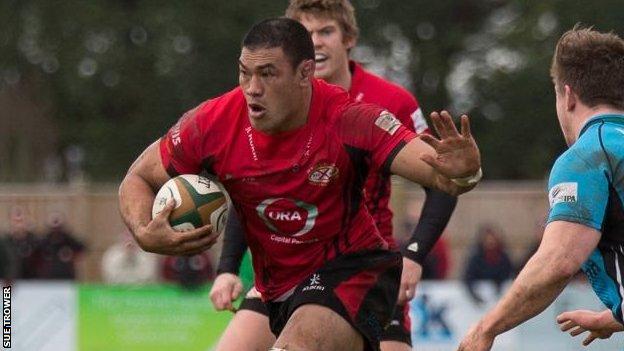 Jersey boss Harvey Biljon says he will look to bring in a replacement for Tonga flanker Latu Makaafi.
The 32-year-old left the club on Wednesday to move closer to his wife's family in the north of England.
"We will be looking to replace Latu, although I think our squad is pretty close to being finalised now," Biljon told BBC Radio Jersey.
"There's always going to be introductions through the season if things don't go your way."
Makaafi was in his second spell with the island side, having rejoined the club from Rotherham, and played 18 games last season.
He originally joined the club in 2006 as one of the first professional players to play in the island as Jersey began their rise from amateur rugby in the London regional leagues to England's second tier.
He also played once for his native Tonga in a 2003 World Cup qualifier against Fiji.
"Latu's been a key part of the squad over the last couple of years.
"Unfortunately he feels it's very important that he follows the family and stays close to his wife and children," Biljon added.
"It's going to be difficult but we'll make sure we go out and we look for the right person to replace Latu.
"But it's got to be the right fit for Jersey, someone who's going to impact both on the field and off the field."
His last match for the island was the