England Women ready to win World Cup - Katy Mclean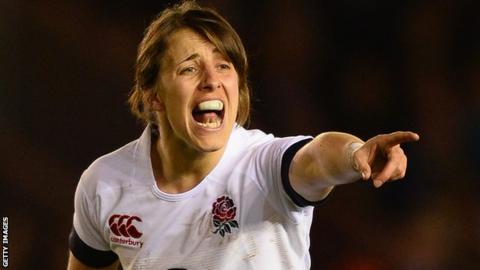 Captain Katy Mclean believes England Women are fully prepared to win the 2014 World Cup in France next month.
England finished runners-up to New Zealand in the past three events, including on home soil in 2010, and last won the tournament in 1994.
"The amount of work we've put in as players, the staff and supporters is fantastic," Mclean told BBC Breakfast.
"Getting out of the tough group is our focus but ultimately we're going out to win the World Cup and bring it home."
This summer's competition takes place in France between 1-17 August.
Darlington Mowden Park fly-half Mclean, who was awarded an MBE in the New Year Honours List for services to rugby, was handed the captaincy after the 2010 Women's World Cup.
She is one of a 26-strong squad named by coach Gary Street.
Although at World Cup level the Black Ferns have dominated the England side, frequent encounters in friendlies and Tests since 2010 have seen a change in fortunes for Mclean's side.
England v New Zealand: Last 10 results
Competition
Home
Score
Away
Date
Touring Test
New Zealand
29-8
England
20-07-2013
Touring Test
New Zealand
14-9
England
16-07-2013
Touring Test
New Zealand
29-10
England
13-07-2013
Touring Test
England
32-23
New Zealand
01-12-2012
Touring Test
England
17-8
New Zealand
27-11-2012
Touring Test
England
16-13
New Zealand
23-11-2012
Touring Test
England
8-8
New Zealand
03-12-2011
Touring Test
England
21-7
New Zealand
29-11-2011
Touring Test
England
10-0
New Zealand
26-11-2011
World Cup final
England
10-13
New Zealand
05-09-2010
Most prominent of those victories was the 3-0 series whitewash in December 2012, with the third and final win coming under the Twickenham floodlights following the men's record-breaking victory against the All Blacks.
Mclean said the biggest thing England learned in 2010 was that "we didn't play them enough".
"We hadn't played them since the last final in 2006," explained Mclean.
"But the RFU have made that happen. We've had the opportunity to play them nine times in the last four years, so it's massive for us.
"It gets rid of some of that aura, they're a phenomenal side and they don't win that many World Cups without being so, but the opportunity to play them was just what we needed."
France, the 2014 hosts, have only failed to make the semi-finals in one of the past six World Cups and the defending Six Nations champions are among the favourites.
"France have shown in the Six Nations as Grand Slam champions that when they're performing then they're a tough opposition to match," Lichfield back-rower and England vice-captain Sarah Hunter added.
"At home, with a passionate crowd as the French are, they are real threats for the competition."