Players caught in the middle of Welsh rugby row - Derwyn Jones
Last updated on .From the section Rugby Union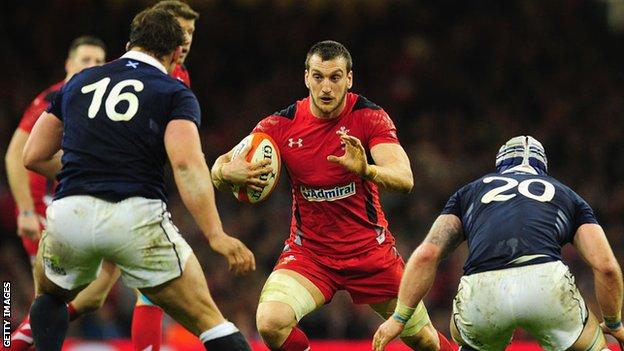 Leading players hope the row between Wales' four regions and the Welsh Rugby Union (WRU) can be resolved quickly according to agent Derwyn Jones.
The regions say they face losing £6.7m with no participation agreement in place and have offered the WRU the chance to take them over.
If no deal is reached, in extreme circumstances the regions may even be forced to offload players.
"The players have been caught in the middle of it," said Jones.
"But I think quite a few players have agreed terms to stay within the regions of Wales off the back of good-will that things will be resolved.
"Certain players have had opportunities to move across the water."
Jones represents a number of leading players including Wales captain Sam Warburton.
He said that if the regions decided to offload star players it will be hard to find new clubs at short notice.
"Most squads have already been finalised," said Jones.
"However, I think everybody's still hopeful that the regions and the WRU can find some common ground, still hopeful that an agreement can be found for the good of the game."
The last participation agreement between the WRU and Regional Rugby Wales (RRW) ended on 30 June.
That contract guaranteed the release of players for Wales coach Warren Gatland's two-week squad training camps ahead of November games, the Six Nations and for the fourth autumn Test which Wales regularly stage outside the approved International Rugby Board window.
If a new deal is not finalised the regions could ensure Wales face South Africa on 29 November without any regional players.
Jones believes that could be at the centre of talks.
"Perhaps it is something the regions are going to look to use with their negotiations with that fixture [South Africa] already confirmed for November," said Jones.
"You would hope that the governing body of the regions [RRW], particularly with that in mind, would come to an agreement.
"Otherwise we as a nation are going to have egg on our faces."
There is also uncertainty as to where Warburton will be playing his rugby next season.
The 25-year-old is the first and only Welsh player, so far, to sign a WRU central contract, but the Welsh regions are unwilling to field centrally contracted players.
Warburton said in June he had "no doubt at all" he would be playing for the Blues as part of the deal but Jones refused to be drawn on the matter.
"Sam's only option to stay in Wales was with the governing body and he was very happy to sign at the time, otherwise he was going to be lost and go to France and that's something he didn't want to commit to," said Jones.
"I think we've just got to wait and see what is resolved between the regions and the governing body.
"You don't want individual players like Sam...caught in the middle, you want a resolution so they can just go out and play their rugby.
"This goes far further than just Sam Warburton, there's regions talking about having to make cut backs in their businesses.
"So it's not just about one player, it's about the future of lots of players and of the game in Wales.
"And that's what we want and hope, that common sense prevails and we can for once focus about what's happening on the field rather than what's happening off it."