Welsh rugby row 'affecting' player career decisions - Dwayne Peel
Last updated on .From the section Rugby Union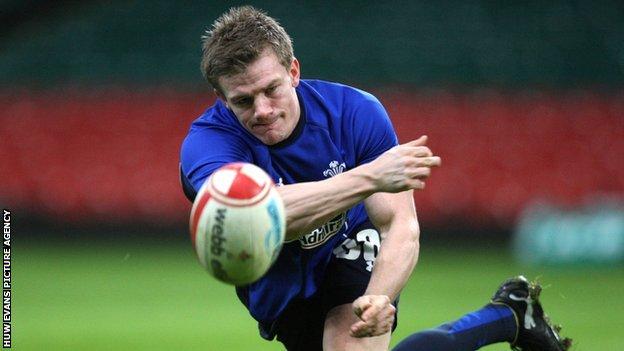 Bristol and Wales scrum-half Dwayne Peel has warned that players are being affected by the stand-off between the Welsh Rugby Union and its regions.
The two sides have been unable to negotiate the terms of a new participation agreement.
The regions say they face losing £6.7m with no deal in place and have offered the WRU the chance to take them over.
"It affects players' decisions I think, when deciding what to do with their future," Peel said.
"Hopefully they can sit down now and get a peaceful solution or an amicable solution for the good of Welsh rugby.
"It's not great for the regions, it's not great for the national team, it's not great for the players and their livelihoods."
Peel, 32, last played his domestic rugby in Wales for the Scarlets in 2008 before making the move to England with Sale Sharks.
Next season Peel, who has won 76 Wales caps and three for the British and Irish Lions, will play for Bristol and has been named captain.
Bristol failed to win promotion to the English Premiership after losing the Championship play-off final against London Welsh.
Peel revealed he had an option in his contract to go out on loan if Bristol failed to reach the Premiership, but says he has chosen to play for the west country side to help them win promotion new season.
"There were some [clubs interested in taking the half-back], but... I'd made the decision to come to Bristol and that's what I've stood by," Peel said.
"There was a possibility [to go out on loan], but when I signed the contract... there wasn't a guarantee that Bristol would go up.
"So I knew the situation when I signed that contract, so I have to accept that and move on.
"Like everyone else at the club I'm disappointed they haven't gone up, but you have to make the most of the situation that we're in and make sure... next year we're in a better position to challenge.
"I think the club as a whole has got over the disappointment of not getting promoted last year, and has been helped by the influx of new players.
"The investment into the club from the new owner has been huge, both on and off the field, and it's time for players and coaches alike to repay that.
"It's going to be a tough task with Worcester coming down with a good squad and having invested heavily again over the summer, but it's a challenge we're up for."