Women's Rugby World Cup 2014: Team guide & players to watch
By Sara Orchard
BBC women's rugby commentator
Last updated on .From the section Rugby Union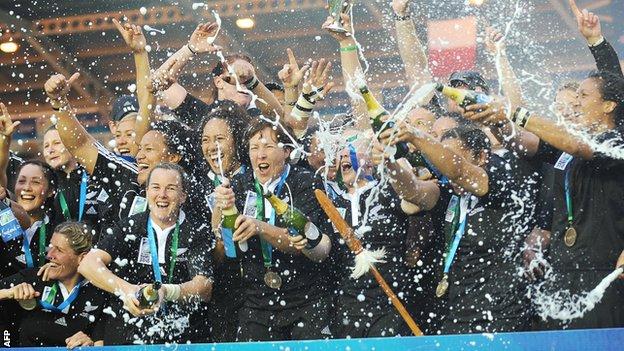 The seventh Women's Rugby World Cup begins in Paris on Friday, 1 August with defending champions New Zealand aiming to win a fifth consecutive title.
England, perpetual bridesmaids it seems, have lost the last three finals, despite home advantage four years ago.
The 2010 tournament was a huge success for the women's game but success again proved tantalisingly elusive for the Red Roses, beaten 13-10 in front of a capacity crowd at the Twickenham Stoop.
Four years on, the semi-finals and final of the forthcoming tournament will be staged at the 20,000-capacity Stade Jean Bouin in central Paris, the home of Stade Francais rugby club.
France Women have always attracted large, vociferous crowds and it is hoped the country's enthusiasm for the women's game will be reflected in the atmosphere, especially with the hosts in with a shot of the title.

France, along with Ireland, the United States and Canada, all promise to make this World Cup more competitive than in recent years, with another New Zealand v England final far from a foregone conclusion.
Officials would welcome a more unpredictable event at a time when the Sevens game is being given greater priority following its inclusion in the Rio 2016 Olympics. While there are no full-time professional 15-a-side women's players, many nations will be borrowing professionals from their new Sevens programmes to bolster their chances.
The International Rugby Board recently brought forward the next Women's World Cup by a year to 2017, to avoid a clash with the 2018 Sevens World Cup - itself moved to avoid clashing with the Olympics. Hosting both in 2018 could have seen some players opting for the more lucrative Sevens and shunning the longer-form tournament.
Amid this shifting rugby landscape, France 2014 is under pressure to improve on its predecessor and help cement the future growth of the game.
| Previous World Cups | | |
| --- | --- | --- |
| Year | Hosts | Final |
| 1991 | Wales | USA beat England 19-6 |
| 1994 | Scotland | England beat USA 38-23 |
| 1998 | Netherlands | NZ beat USA 44-12 |
| 2002 | Spain | NZ beat England 19-9 |
| 2006 | Canada | NZ beat England 25-17 |
| 2010 | England | NZ beat England 13-10 |
Format: The same as in 2010: three pools of four teams. Teams are awarded four points for a win, two for a draw and none for a loss, unless it is by seven points or less, in which case they get a bonus point. Unlike the men's World Cup, the women's follows the example of domestic leagues such as the Aviva Premiership, and also awards bonus points for scoring four or more tries in a game.
The three pool winners will progress to the semi-finals, along with the second-placed team with the highest points tally. As the World Cup is a ranking tournament, all the countries will have play-off matches to be given a final position.
Schedule: Every team will play on the same five match-days. Pool games will be on Friday 1 August, Tuesday 5 August and Saturday 9 August, with semi-finals and ranking matches on Wednesday 13 August. The final, and play-offs for the other positions from third to 12th, will be played on Sunday 17 August.
Venues: All the pool games will be held at France's national rugby centre in Marcoussis, on the outskirts of Paris. The semis and the final will be played at the Stade Jean Bouin in central Paris. Tickets for the finals have been priced between 5 and 25 euros.
POOL A - Canada, England, Samoa, Spain
Canada
World Cup history: After finishing fourth three times in a row from 1998, Canada lost to the USA in the fifth/sixth place play-off in 2010, but have stolen a match on their North American rivals in recent years.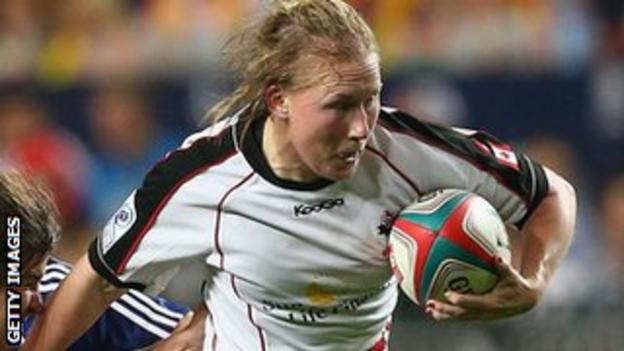 Player to watch: Centre Mandy Marchak is a solid veteran of the squad with two World Cups under her belt. The thought of Marchak and England's Emily Scarratt running into each other in the pool stage is an enticing one.
Did you know? In 2012 the Canadian women produced a naked calendar to raise funds for the national team.
Verdict: Canada should comfortably finish second in the group but will need to rack up some big scores to be in with a chance of nailing the last semi-final spot.
England
World Cup history: Perpetual bridesmaids. England have lost the last three World Cup finals to New Zealand, and were also runners-up to the USA in the inaugural World Cup in 1991. They did reverse that result to win the trophy in 1994 though.
Player to watch: It's hard to ignore Emily Scarratt, who often leaves a trail of defenders in her wake, playing at centre or full-back. Top points-scorer in this year's Six Nations, including four tries, the 24-year-old was a consistent threat with her running and huge right boot.
Did you know? When back-rower Marlie Packer isn't tackling for England, she takes on the gas boilers of London in her day job as a plumbing and heating engineer.
Verdict: England boast some of the most skilful and experienced XVs players in the world - 12 of their squad have 50-plus caps. But question marks hang over the Red Roses' recent form. Having appeared to peak in 2012, they suffered Six Nations defeats by Ireland and France, and a three-Test whitewash in New Zealand, in 2013 after a host of top players concentrated on Sevens instead. Six Nations runners-up this year, they could still find a higher level - and finally become the bride.
Samoa
World Cup history: The South Pacific Islanders didn't qualify for the 2010 World Cup. At the two previous tournaments they finished 11th (in 2006) and ninth (2002).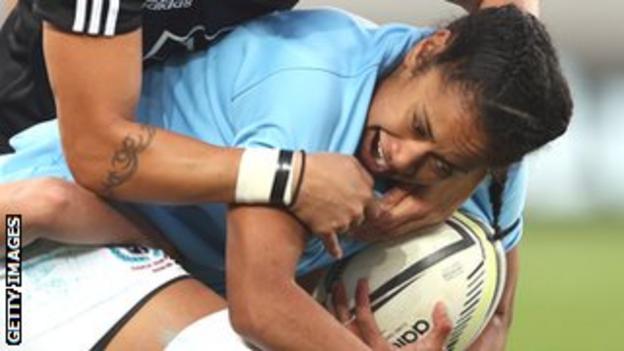 Player to watch: Fly-half Bello Milo plays for Auckland and is a vital source of direction and forward drive for an inexperienced international squad.
Did you know? Samoa's women, known as the Manusina, only played their first match of Test rugby in 2000. Since then the only countries they have played more than once are Spain and Kazakhstan.
Verdict: The team have had to hold fundraising dinners to afford to come to Paris and are a long way behind their more established rivals. A recent friendly with New Zealand saw them on the wrong end of a 90-12 scoreline. One victory in the pool stage would be a massive result, but remains unlikely.
Spain
World Cup history: In and out of the World Cup since 1991, Spain missed out on qualification in 2010, a failure attributed in large part to the 2007 decision to replace them with Italy in the Six Nations (allowing the women's tournament to mirror the men's).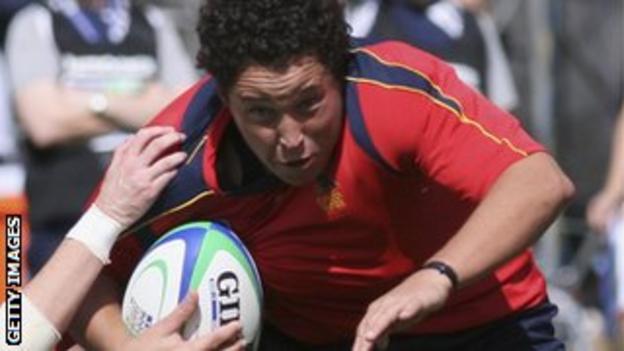 Player to watch: Captain and number eight Ana Maria Aigneren is considered the gel of the Spanish team. Colombia-born but qualified to play for Spain, she will lead by example.
Did you know? Spain hosted the fourth instalment of the Women's Rugby World Cup in 2002, with the final between England and New Zealand played at Barcelona's Olympic Stadium.
Verdict: Warm-up games against France (a 37-3 defeat) and Ireland (a 36-20 defeat) this month show that Spain are still lagging behind their European neighbours. But they should be aiming for victory over Samoa.
POOL B - Ireland, Kazakhstan, N Zealand, USA
Ireland
World Cup history: The Irish have slowly climbed the world rankings, having previously made up the numbers in the 1990s. Their highest finish was seventh in 2010.
Player to watch: The second-row combination of Sophie Spence and Mary Louise-Reilly, standing at 5ft 11in and 6ft 3in respectively, run the Irish line-out and are a danger to the opposition on their own throw.
Did you know? Captain Fiona Coghlan, who led Ireland to their first Six Nations Grand Slam in 2013, will retire after the World Cup. The 33-year-old prop, a PE and maths teacher, is one of the friendliest faces on the women's circuit and will be sorely missed from the global game. With coach Philip Doyle also stepping down after the tournament, this World Cup will be a watershed moment for Irish rugby.
Verdict: Ireland have incredible potential but limited funding and support. Their 2013 Six Nations Crown is likely to be their greatest achievement for some time. Being drawn in the same group as New Zealand is a major barrier to Ireland's progress in Paris, although a semi-final spot is not an impossibility.
Kazakhstan
World Cup history: Kazakhstan have featured at the last five World Cups, finishing 11th at the last three.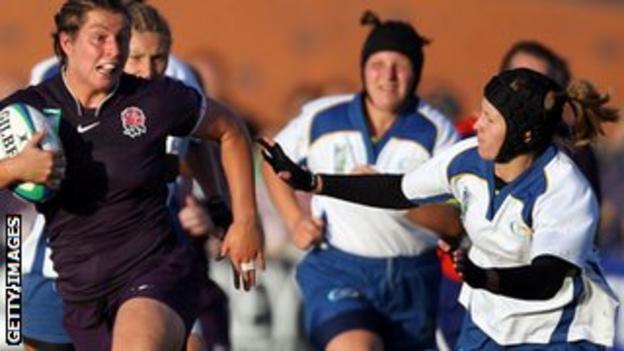 Player to watch: Captain and number eight Anna Yakoleva was named in the 2006 World Cup All-Stars team. The 30-year-old has recently been starring in her country's Sevens team.
Did you know? Kazakhstan, known as the Nomads, are the number one women's team in Asia. Along with South Africa, they were one of the last countries to qualify for this World Cup.
Verdict: With no warm-up games, Kazakhstan come into the tournament cold compared with the rest of their pool rivals. This is by far the toughest group and the other three countries will be looking to pick up bonus-point victories against their weakest opponents.
New Zealand
World Cup history: Serial World Cup winners, the Black Ferns have won the last four tournaments.
Player to watch: All of them. But if we must single out one, wing Honey Hireme. The mother-of-three has been a star on the Sevens circuit and will be making her XVs World Cup debut. A former rugby league player, her nickname is 'Honey Bill' - mirroring a cross-code star of the men's game, Sonny-Bill Williams.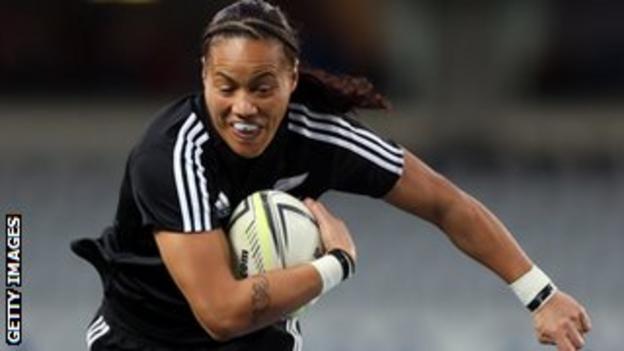 Did you know? New Zealand Women are not just reigning XVs world champions, they also won the Women's Sevens World Cup last year and are back-to-back champions of the IRB Women's Sevens World Series.
Verdict: The Black Ferns go into this tournament more prepared than normal after four victorious Tests against Australia, Samoa and Canada (twice). The top female Kiwi players are now on central Sevens contracts and are effectively being lent back to the XVs set-up for the tournament. They're not unbeatable but their skills are likely to be unmatched. A huge physical and mental effort will be required by anyone aiming to stop the Black Ferns bulldozer.
United States
World Cup history: Winners of the inaugural tournament in 1991, and runners-up in the next two, they have missed out on the semi-finals in the last three World Cups and had to settle for fifth.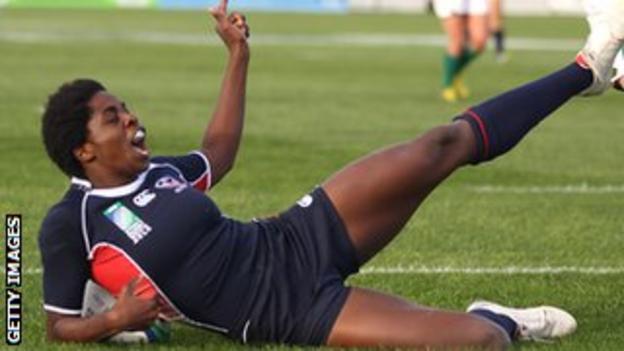 Player to watch: Wing Vanesha McGee is a consistent try scorer with a commanding presence. She also comes with a wealth of experience after leading the USA Sevens side to a third-place finish at the 2013 Sevens World Cup.
Did you know? A captain in more ways than one, the Eagles skipper and back-rower Shaina Turley is also a helicopter pilot for the United States Marine Corps.
Verdict: The Eagles have always been a team to take seriously. They lost by only four points in a warm-up match with England, and their clash with Ireland will be pivotal to both sides' hopes of progress.
POOL C - Australia, France, S Africa, Wales
Australia
World Cup history: Had their best finish four years ago, winning the third-place play-off against France. Prior to that, they had never really looked contenders for top honours.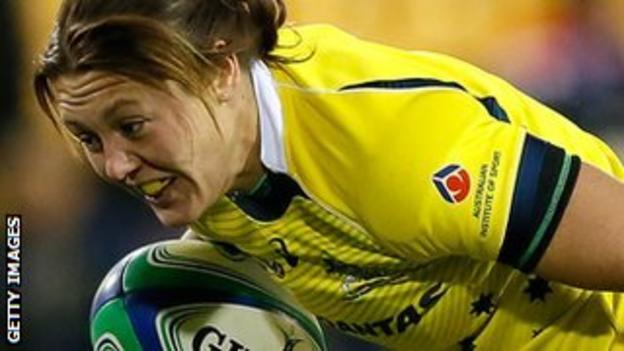 Player to watch: Centre Sharni Williams is the captain of the Australian Sevens team and is known as one of the toughest players. Quite happy to play on no matter how much blood she's spilt.
Did you know? While fly-half Tui Ormsby will become the first Australian woman to play in four World Cups, there are 12 players in the Wallaroos side making their World Cup debuts.
Verdict: The Australian focus is unashamedly on Sevens and coach Paul Verrell is borrowing a few stars from that programme to bolster his ranks. They remain a relatively unknown quantity but two warm-up defeats - 38-3 to New Zealand and 22-0 to Canada - suggest a semi-final spot is less likely this time.
France
World Cup history: Consistent but have never reached the final, finishing a frustrating third on four occasions, and fourth in 2010.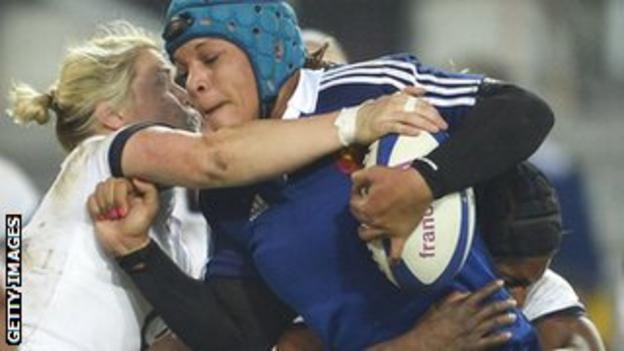 Player to watch: Montpellier's Safi N'Diaye has added some effective muscle to the French back row since making her debut in 2012. The 26-year-old's increasing game understanding, allied to her physicality, makes her hard to ignore.
Did you know? The popular former France captain Marie-Alice Yahe was forced to retire in May this year. The 29-year-old scrum-half had to stop playing on medical advice after she suffered a series of concussions.
Verdict: This French side appears to have more bite than in previous World Cups following their Six Nations Grand Slam this year. If anyone has the passion and power to break the England-New Zealand domination of the tournament, it is the hosts. They should win their pool and, with home advantage, this could be their year.
South Africa
World Cup history: Relative newcomers to the World Cup party, the South Africans first appeared in 2006, finishing 12th, but lifted themselves to 10th four years ago.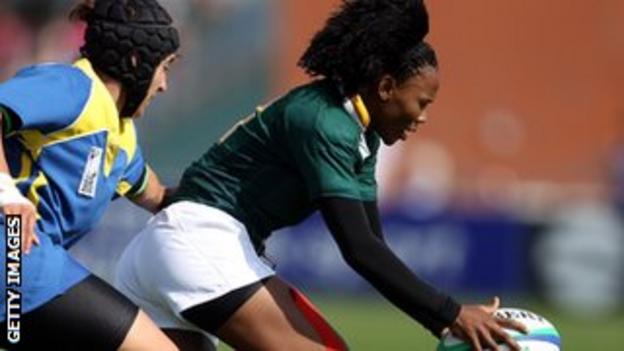 Player to watch: Wing Phumeza Gadu could already run beautiful lines and has added to her attacking repertoire by playing on the Sevens circuit of late.
Did you know? Springbok full-back Cindy Cant will make a very belated World Cup debut. The 31-year-old centre-cum-full-back missed out on selection in 2006, and was forced to drop out of the 2010 squad when she couldn't get time off work, having just started a new job.
Verdict: New coach Lawrence Sephaka, a former Springboks prop who played in the men's 2003 World Cup, saw his side beaten 46-8 by France in a warm-up match this month and has had little time to make an impact. Any pool win would be a great result.
Wales
World Cup history: A country brimming with talent, they have often promised great things but have never bettered their fourth-place finish at the second ever tournament in 1994. Their best since then is ninth in both 2002 and 2010 - and don't mention 2006, when they failed to qualify and the last spot was controversially given to Samoa instead.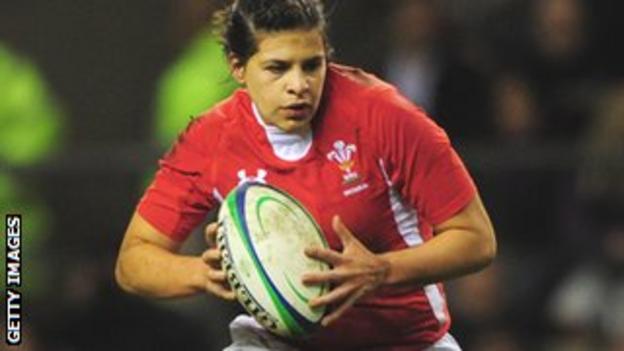 Player to watch: Still only 20, centre Rebecca De Filippo is a delight to watch. With a great offload and sound game awareness, she remains a vital cog in the Welsh midfield.
Did you know? Of the 26 players in the squad, 12 are based with English clubs, eight of them playing just across the Seven Bridge for Bristol Ladies, including De Filippo.
Verdict: Wales had a disappointing Six Nations with just one victory, but they have the talent to do well in France. This World Cup is a great opportunity for coach Rhys Edwards to establish a new era with a young Welsh team. Anything higher than another ninth-place finish will be considered progress.