Australia v New Zealand: Rugby fans to trial moving seats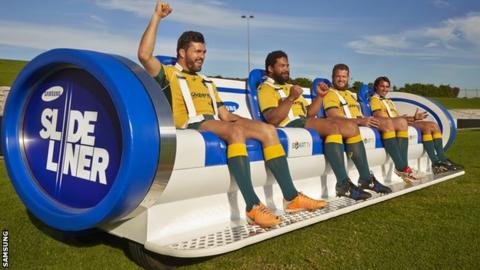 Ever wished you were watching the game in a better seat?
The future of live sports entertainment may make that possible as rugby fans in Australia will be the first to pilot seats that will run along Sydney's Stadium Australia touchline on rails.
The chairs, developed by Samsung, can move at speeds of more than 12mph and will be introduced for the opening match of the Rugby Championship against New Zealand on 16 August.
Arno Lenior, Samsung Australia:
"If the Wallabies are getting close to the All Blacks' try line, you'll be right there in the action and at kick-off you'll be back at halfway."
Known as the Slideliner, the mobile bank of seats will offer the four occupants, who will be selected by a national competition, a new perspective on the game.
The Slideliner is controlled by an operator with a joystick, and the four winners will have to wear a safety harness in their seat.
There are also individually built-in cool boxes and a tablet screen so each fan can take pictures from one of the four cameras mounted on the device and post them on social media.
However, there is just one drawback - the seats are currently facing the wrong way.
"It's facing the crowd, which is not what you want, but certainly on the game day it'll be in front of the seats facing the game," said Arno Lenior, chief marketing officer of Samsung Australia.