Women's Rugby World Cup: Behind the scenes with Wales
By Dafydd Pritchard
BBC Wales Sport in Marcoussis, France
Last updated on .From the section Rugby Union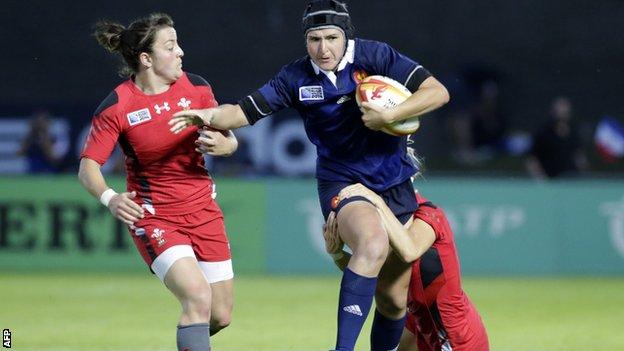 Entering the Wales team hotel barely 12 hours after their 26-0 defeat to hosts France on the opening night of the Women's Rugby World Cup, you could be forgiven for expecting a solemn scene.
Wales, after all, now have to beat Australia in their next match on Tuesday to have any chance of reaching the semi-finals.
But the laughter and chatter emanating from the Wales players' corner of the lobby is the sound of a team at ease, enjoying themselves.
Recovery and sacrifice
This is the players' recovery day. They have had an extra hour in bed after their late finish the previous night, then had a substantial, protein-heavy breakfast before jumping in the pool for a light training session.
Afterwards, there is time for a break and, as this tight-knit squad gather around a table covered in isotonic drink bottles and protein shakes, fly-half Elinor Snowsill describes the sacrifices players must make to represent their country.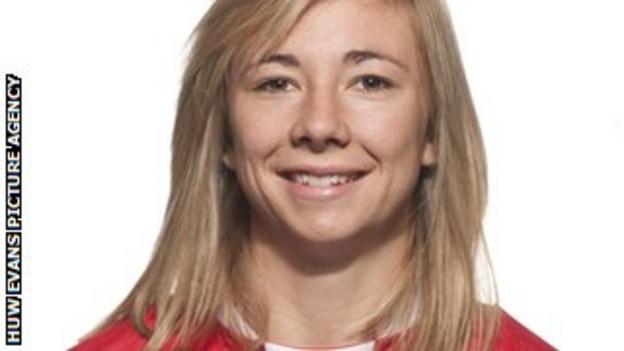 "I'm the kind of person who struggles when people tell me what to eat, and we are limited on puddings and stuff but - don't tell the coaches - we do have a supermarket run to sneak some chocolate in," she says.
"Most of, if not all, the girls have full-time jobs. A lot of us have to get up at six in the morning for a weights session, go to work and then train with the team in the evening. It's hard juggling it, and your social life suffers, but it's worth it."
As a teacher, Snowsill is free to play at the moment with schools closed for summer holidays but, for others, it has been a case of negotiating with their employers and, for some, that can mean a financial loss.
Players are not always able to take the time off. South Africa full-back Cindy Cant, for one, was forced to miss the 2010 World Cup as she was unable to have the required leave having started a new job.
Team spirit
Before the all-important business of the Wales squad's table tennis competition, a handful of players seek out the medical staff to soothe the muscles still sore from the defeat to France.
"It's important for the girls psychologically too, to have a massage and to chill out. It keeps spirits up," says physiotherapist Gary Ahmed.
"A lot of the time, people just want to get away and come here to chill out."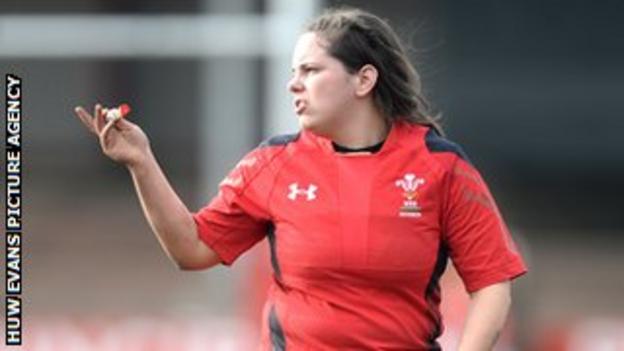 The Wales squad clearly enjoy each other's company, and it is invariably from their corner of the hotel lobby where laughter erupts every couple of minutes.
"It's definitely the best squad I've ever been involved with," says hooker Lowri Harries.
"It's a tight group of friends. There's a very relaxed atmosphere when we're on down-time, a lot of practical joking and messing around."
And it seems Harries herself is chief among the practical jokers.
"It's Lowri," interjects back-rower Sioned Harries. "She's always dancing and singing as well."
The two players - no relation - form half of the social committee, which imposes fines for using phones at the dinner table and has formed a picture board of embarrassing photos where "nobody is safe".
Avoiding cabin fever
Having such a harmonious squad makes life easier for the coaching staff, and head coach Rhys Edwards hopes the youthful group he has assembled will go on to represent Wales at future World Cups.
"The girls are really committed, they're a close bunch, and we're beginning to see the positives of that," he says.
Wales are the only one of the 12 World Cup teams who are not staying at Marcoussis, the French Rugby Federation's headquarters and venue for all pool matches.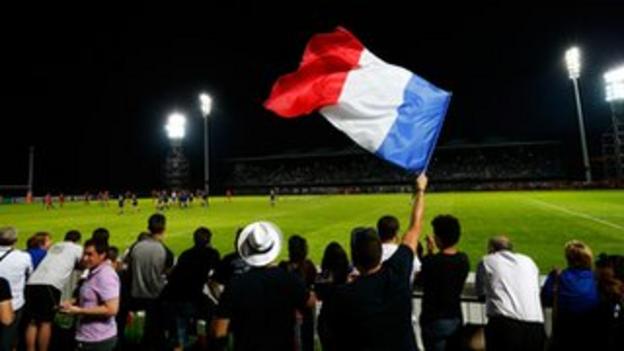 It is an impressive complex, with a main stadium at its heart, outer pitches for non-televised games as well as accommodation for players and state-of-the-art training facilities.
But there is a reason why Wales have decided to stay at a hotel 20 minutes or so away. Edwards is eager to ensure the players do not feel a sense of "cabin fever" which might come in a "24-7 rugby environment" in such close proximity to their rivals.
A little distance from the cauldron of competition allows the players to switch off, relax and recuperate.
When they return to Marcoussis on Tuesday to face Australia, however, there is no doubt their focus and will to win will be absolute.