Family overwhelmed by support for injured Owen Williams
Last updated on .From the section Rugby Union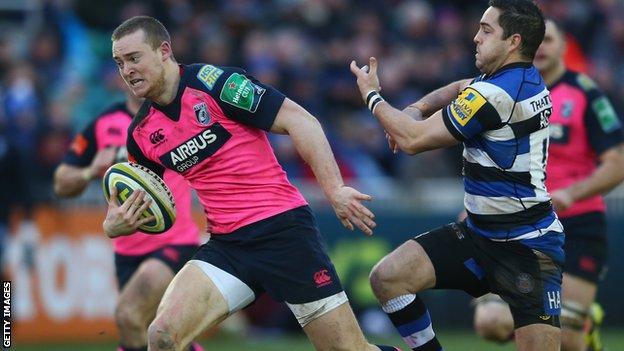 The brother of injured Cardiff Blues rugby player Owen Williams says his family are overwhelmed by the support they have received.
Williams, 22, is being treated at Cardiff's Rookwood hospital after suffering a spinal injury in a tournament in Singapore in June.
His brother Gavin said: "He's overwhelmed like we all are with the support from the rugby community.
"It really is giving him the push he needs."
Cardiff Blues announced on Tuesday that the four-times capped Williams was "making progress".
"Owen now has improving function in both of his upper limbs, while being on enforced bed rest," said the Blues in a statement on the club's website.
"He will be progressing to sitting up over the coming few weeks."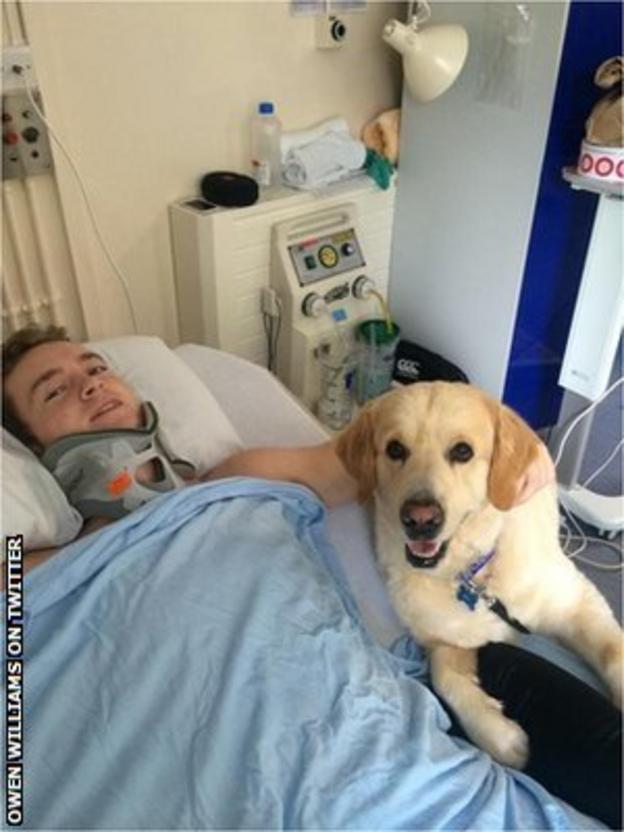 Speaking on BBC Radio 5 live, Gavin Williams said his brother was in good spirits, was "staying really positive" and had been lifted by the good wishes coming in from "all over the rugby world".
"He's had messages from [Australian rugby internationals] David Pocock and Quade Cooper," he said.
"Everyone really you can think of in the rugby world has just given him that extra boost that he's going to need.
"Reading the messages with Owen by his bedside it's overwhelming really, but he needs the support now and it's great.
"The whole of the WRU coaching staff have been there - Rob Howley, Robin McBryde, Shaun Edwards. Everyone's been in touch."
Gavin said the family had been informed quickly of Owen's injury, and he and his parents Sian and Huw were flown out to Singapore within 48 hours to be at his bedside.
"The worst thing was we wanted to get out there and it's the worst plane journey you'd ever have to take," he added.
"But when we were out there, we were by Owen it made everyone happy. My parents were so desperate to get out there and be by his bedside and when we did get out there we just gave Owen that extra support he needed.
"It was distressing, and fair play to the Blues [for] getting us out there as quickly as possible.
"From then up until now Owen's been brilliant, inspirational really. He's up and down obviously as anyone would be, but when he's up he's very up and he just keeps us going really.
"I am [proud of him] and I'm going to be - it's going to be a tough time for him, a long road, but he's the one person who will definitely pull through it."
Gavin Williams praised the Blues, their medical staff and team manager Gavin Cooper for the support they have given Owen and his family.
"The support they have given us has been incredible really and a special mention to Gavin Cooper the team manager who has been with us and with Owen since day one out in Singapore and he stayed out there longer away from his family.
"He's just gone the extra mile for Owen and he's bringing him pasties and all sorts."