Cornish Pirates value training camp in Guernsey
Last updated on .From the section Rugby Union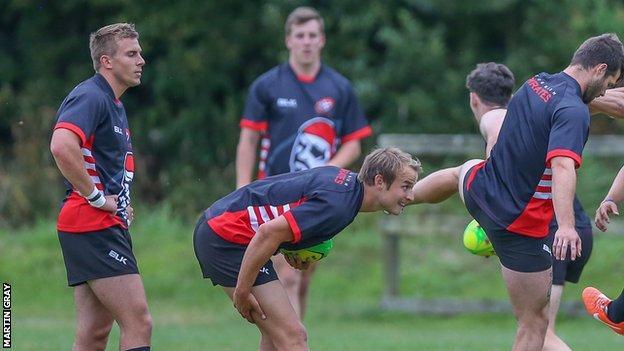 Cornish Pirates boss Ian Davies says the club's week-long training trip to Guernsey is the ideal preparation for the new Championship season.
The trip culminates in a friendly between the Pirates and Guernsey RFC, the first time the two clubs have met.
The Pirates have two former Guernsey players, and in their squad.
"This week is all about the focus on Leeds Carnegie on 7 September," Davies told BBC Radio Guernsey.
"There's fantastic facilities that we've been lucky enough to use, but also it gives us a focus for the week.
"We can have four sessions a day and the boys can work really hard."
And Davies was quick to praise the island's rugby academy for producing two players good enough to make the step up from National Three London to the second tier of English rugby.
"They have quality guys coming through with good core skills," said Davies. "Luke is in his second year with us now and hopefully he can kick on from his foundations with us now.
"George is new to us, he's only had a couple of weeks with us, but both have got fantastic attitudes.
"Luke brings a good skill set, a great attitude, he just needs to move on now and kick on with what he's got."
And Guernsey head coach Jordan Reynolds says the club will never stand in the way of good local players who want to ply their trade at a higher level.
"It's never a case of if you have quality players you want to try and hold onto them, if they're good enough you need to move them on to bigger things," he said.
"Creating that link with the Pirates, who have for years had a great set-up, is perfect for us to let our players develop at a higher level.
"We've never had a side like the Pirates come over - for them to offer us a game against them is a big thing for Guernsey, not just the club but the community as well."