Worcester: Pennell will not be held back by Championship rugby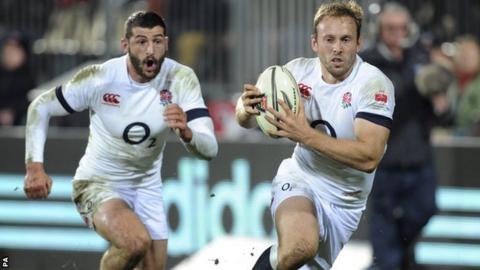 Worcester star Chris Pennell has been told that he still has a future as an England player, despite being relegated from the Premiership to the Championship with the Warriors.
Pennell, 27, earned his first Test cap for England in New Zealand in June, five weeks after Worcester went down.
But he made a favourable impression on tour with the England management.
"Stuart Lancaster understands that there are still quality players in Championship rugby," said Pennell.
"Had the World Cup been last year, then maybe it would have been easier to have picked someone who was playing Premiership rugby.
"But, with Stuart in charge, given his background with Leeds, the message I'm getting is that, as long as I'm doing my job and doing it well and keep improving, I don't think it's going to stop me."
Full-back Pennell knows that staying in England contention is in his own hands - and that success this coming season for Worcester, with whom he is contracted for another three years, can only help.
By the time England start their Rugby World Cup campaign against Fiji at Twickenham, on 18 September next year, Pennell hopes that he will be back in the Premiership with his hometown club.
Far from worrying about losing Pennell to another Premiership club, Warriors director of rugby Dean Ryan is more preoccupied with transfusing Pennell's spirit of ambition on his own doorstep at Sixways through the rest of the Worcester squad.
"He'll drag others with him," Ryan told BBC Sport. "I see him moving on from this and the way he challenges other people moving on.
"Let's see if we can try to keep him involved. He did himself and the club an enormous amount of credit this summer.
"I knew if he could just get the opportunity to be exposed to a higher level that they would warm to him as well.
"And the feedback from England has been outstanding, right from Stuart Lancaster through to all the medical staff."
Pennell's debut came late on in the narrow first Test defeat by the All Blacks in Auckland, as a replacement.
After England's squad was strengthened by the return of all their missing Premiership final players, Pennell did not get a look-in for the second Test.
Having then impressed by scoring one and setting up another try in the 38-7 midweek win over Crusaders, it was a surprise that he did not get another chance in the third Test, once the series was decided.
But, judged by the warm grin on his face as he reflects on that June Saturday evening down under, Pennell still has nothing but proud and happy memories of his first call in Auckland.
"I didn't think it was going to come, to be honest, given the sin bin for Marland Yarde," he told BBC Sport. "I thought that was my chance drifting away.
"With 79 minutes gone, I didn't think it was going to come and I was starting to undo my bootlaces. But better late than never.
"Stuart Lancaster said he was desperate to get me on and I'm pleased he did.
"But now I'm back in pre-season, it feels a long time ago and I've had to come down to earth with a big bump."