The history makers: behind the scenes with Ireland's women
By Sara Orchard
BBC Sport in Marcoussis, Paris
Last updated on .From the section Rugby Union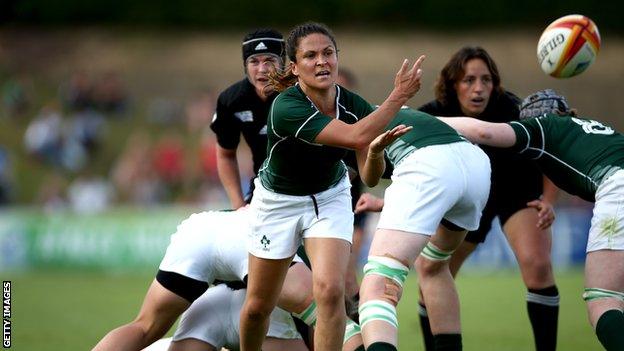 If Ireland wish to revisit the scene of their historic win over world champions New Zealand, all they have to do is open the door and amble over to the pitch where it all happened.
Everything is falling into place at the 2014 World Cup for the Irish, who are beat Kazakhstan on Saturday to top their group and secure a place in the semi-finals for the first time.
Ireland not only beat the Black Ferns but also secured the best base in town when they booked the National Centre of Rugby in Marcoussis, on the outskirts of Paris.
Marcoussis, normally the headquarters of the French men's team, is hosting the pool stages of the Women's Rugby World Cup, and being based there is proving a real positive for the upbeat Irish.
Captain and prop Fiona Coughlan enthused: "It's an incredible set-up. I'm sitting in a team room with a balcony overlooking a lake and greenery.
"Everything is just so handy, we're getting extra recovery time because we're not getting on buses to go to and from training, it's just made everything easy."
The team has access to a swimming pool, Jacuzzi, numerous rugby pitches, medical centre, restaurant and even a video library.
Coughlan told BBC Sport that it has also served as the ideal place for spotting their French rugby heroes, such as legendary former full-back Serge Blanco and former wing and current head coach Philippe Saint-Andre.

"They were out here the other day. Our scrum-half Tania [Rosser] named her son after Serge, so she was dying to meet him. I don't know if she got a photo, I hope she did," said Coughlan.
The team have been split into pairs to share rooms and Coughlan is happy to confirm the location of the party.
"Gillian Bourke and Sophie Spence have the messiest bedroom, they're noisy as well, a bit of a party room," revealed the captain.
"Gillian is a little techno person, so she's set up a little projector and she'll play movies or TV shows for the whole squad."
At 33 years old, Coughlan is one of the older members of the group. She led Ireland women to their first Six Nations Grand Slam in 2013 and has announced she will retire after the World Cup.
However, despite her role as captain she happily admits she's still likely to be the last to bed.
"The girls all call me FOMO, which stands for Fear Of Missing Out. So it's normally me that's not in my room, but the girls are all good and well disciplined - we know when we need to sleep and rest," she said.
The squad is close and Coughlan exudes a mothering nature towards the whole team and staff.
Women's Rugby World Cup - Pool B

P

W

D

L

PF

PA

TF

TA

BP

Pts

Ireland

3

3

0

0

80

36

10

4

1

13

New Zealand

3

2

0

1

127

25

20

3

3

11

USA

3

1

0

2

67

64

10

9

2

6

Kazakhstan

3

0

0

3

17

166

3

27

0

0
It was she who persuaded their strength and conditioning coach Marian not to take a bet to shave her head if they beat New Zealand:
"I was like, 'you're not shaving your head, because we're going to win tomorrow'. I think she's happy I convinced her not to shake on the bet."
The team eats in the same restaurant used by the French men and dinner is a mix of meat, salads and carbs. They also have a snacks table of fresh fruit and yoghurts, with only one player a little unsure of the French cuisine.
"[Full-back] Niamh Briggs is incredibly fussy," explains Coughlan. "She doesn't eat anything but plain white chicken. She might eat a bit of fish but it has to be salmon, she's very fussy."
As grateful as the Ireland women are, it was meticulous planning by their coach Philip Doyle that secured the accommodation, as they are one of only four teams staying on-site - hosts France, Spain and Canada are the others.
"It was a lot of luck as it goes on world ranking," Doyle told BBC Sport.
"We did a reccy in February and March and we put down here as our first choice. Somewhere along the line the top six teams didn't select it and more fool them.
"I know the Kiwis didn't do a reccy, nor did the English. I think they were pretty foolish on that side and we got it."

Doyle has been supported over the past week by the Ireland men's coach Joe Schmidt, who watched from the stands as Ireland women beat New Zealand - a feat that has never been achieved by their male counterparts, who have lost 27 and drawn one since first tackling the All Blacks in 1905.
"He didn't have any technical input on the actual game but just having Joe around is fantastic support for the ladies," said Doyle.
"The girls have got to know him over the past couple of months and he has a lot of time for Irish women's rugby."
Schmidt spent time with the team following their victory and was first to buy Doyle a beer at the bar after.
"Did he buy me a beer? Yes he did, and we had a great chat. He also gave me a dig in the ribs saying someone was slagging him [winding him up] because I was the first Irish coach who beat a New Zealand team," smiled Doyle.
Ireland became the first country to book their place in the knockout stages, with the semi-finals and final being held at Stade Francais' Stade Jean Bouin stadium in central Paris.
Ireland would no longer have the pitch literally on their doorstep, but you suspect they'll think a trip to the middle of the French capital is a small price to pay after reaching the last four of the World Cup for the first time in their history.