Scottish coach Richie Gray relishing role with Springboks
Last updated on .From the section Rugby Union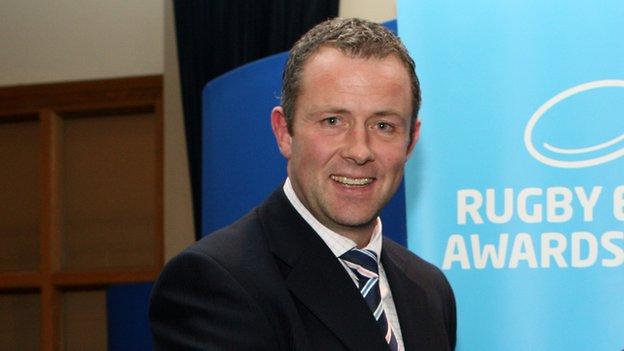 Richie Gray has described working with the Springboks for the past year as an "honour" and admits he does not know if he will return to coach at Murrayfield.
The 44-year-old from Galashiels is breakdown skills coach at South African Rugby Union, having made his name developing rugby training equipment.
He said: "I cannot fault this country - the supporters, the players and the management have been outstanding.
"For me even to be down here, it's a real honour to work with this country."
He told BBC Radio Scotland's Sport Nation: "It's never been a great place for foreign coaches to come, especially at national level.
"I could only name two or three who have been in for two or three months.
"I've been with them for a year now and I've another year-and-a-half to go until the end of my contract at the end of 2015.
"They're rugby mad. It's not just about winning, it's winning well.
Gray spent 12 years at Scottish Rugby, up to 2006, as its academy manager, developing coaching and strategy.
He thinks securing his role with the Springboks was down to it being "the right time for somebody that thinks slightly differently".
Since 1994 Gray has developed training aids for rugby, founding his company, Global Sports Innovation.
His work in that field, notably inventing a piece of apparatus called the Collision King, has earned him worldwide rugby fame and he is relishing the chance to put his training methods into practice with such a high profile team.
"I took a huge gamble three or four years ago to step out the game for a year and design all these training aids," he explained.
"But it was possibly the best thing I ever did because it gave me such an insight and it made me think completely differently about the way it should be coached.
"I just knew there was something missing in the game worldwide. The way that we trained had to change.
"I knew that if you could replicate movement patterns within the game into training aids then you could train at a far greater intensity week-long and then go into the game knowing your players were ready to go sort of bone on bone.
"If you were going to go live day in day out with these players, you wouldn't have anybody left on a Saturday.
"Hopefully, South Africa will reap the dividends of that."
While he has made South Africa his home for the past year, he admits he does not know if or when he will return to a role in Scottish Rugby's hierarchy.
"At the moment in Scotland you have Vern [Cotter, head coach], who is a New Zealander, and Jonno [Scott Johnson, director of rugby], who is Australian," he said.
"You never know where you're going to end up. You work from contract to contract and do the best you can and make a difference wherever you are.
"You could be here long term or you could be in another country."