Women's Rugby World Cup: What next for England's part-timers?
Last updated on .From the section English Rugby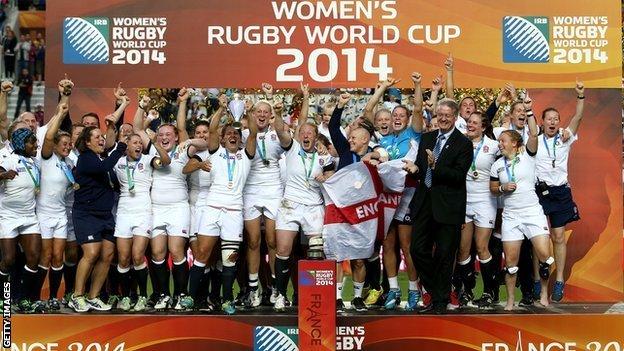 Scanning the front pages of Monday's national newspapers and seeing the joyous pictures of England's World Cup-winning women's rugby team, I couldn't have been alone in thinking: "You're gonna need a bigger trophy."
The diminutive cup held aloft by England captain Katy Mclean didn't fit the size of the story: it looked a bit apologetic, a bit pub league, a bit amateurish. Granted, Mclean and Co are amateur players - but only in theory.
Mclean is a teacher by trade, prop Sophie Hemming a vet, lock Jo McGilchrist a physio, flanker Marlie Packer a plumber. In case anybody at the International Rugby Board was wondering, this England outfit does not contain a silversmith.
But England's 21-9 victory over Canada in Sunday's final at the Stade Jean Bouin in Paris - a 20,000 sell-out beamed to 137 countries - was the result of back-breaking, mind-numbing professionalism. Back-breaking, mind-numbing professionalism that happened before and after work and during lunch breaks.
"The girls are professional in almost every way, apart from the fact they don't get paid," said head coach Gary Street, who gave up his previous job as a quantity surveyor seven years ago to take up his current role.
"It can be a difficult life. We had about 107 days together from January to Sunday, and most employers don't give that much holiday.
"Some of the girls - (centre) Rachael Burford and (full-back) Danielle Waterman among them - gave up jobs and moved back in with their parents. And some of those who gave up jobs didn't end up being selected for the final squad, which was heart-breaking, given the commitment they'd shown."
Despite the generosity of various employers and the money men and women at the RFU, Street and his assistant Simon Middleton have spent many hours on the road over the years, acting almost as itinerant consultant coaches.
"We go and see the players when they're free," added Street, who has led England to six Six Nations titles, including five Grand Slams, and also guided them to the 2010 World Cup final, when they narrowly lost to New Zealand.
"It might be 7am in a field, somewhere in the back of beyond. But we've found a system that works and this is how it has always been." A system that works and how it has always been - but surely not for much longer.
World Cup finals

1991

United States

19-6

England

1994

England

38-23

United States

1998

New Zealand

44-12

United States

2002

New Zealand

19-9

England

2006

New Zealand

25-17

England

2010

New Zealand

13-10

England

2014

England

21-9

Canada
For Mclean, it was less the actual winning of the World Cup and more the manner in which England won it that gave the players the right to "start stamping their feet" and demanding the same status as England's female cricketers, who went fully professional earlier this year.
"As athletes you can't complain about things unless you go out and perform," said the 28-year-old fly-half from Sunderland. "So we had to go out there and put on a spectacle. The semi-final against Ireland [which England won 40-7] was one of the best games we've played. And the final wasn't bad either."
Whereas you will always struggle to convince the naysayers that women's football is a better spectacle than men's football, the fact that women's rugby is less physical and therefore less claustrophobic than men's rugby makes it a refreshing alternative and should be principal selling points.
Indeed, former England prop Jeff Probyn is just one well-informed male observer who believes the women's game, at least at the highest level, is more aesthetically pleasing than the power-obsessed male equivalent.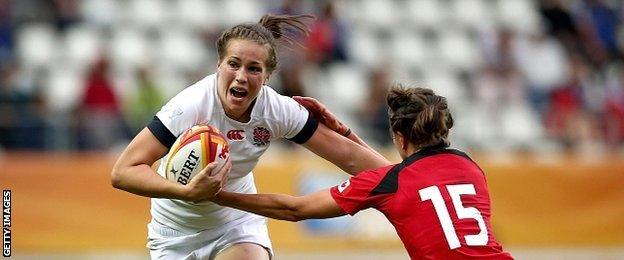 "I think it is technically far better than the men's game," wrote Probyn in his column for The Rugby Paper.
"Women rugby players rely more on team work and skills to create space, rather than trying to bash through tackles."
The French Top 14 is more power-obsessed than most leagues, which might explain why the French public supported this year's Women's World Cup so fervently. Not only did all five rounds attract healthy crowds, but almost three million watched France's semi-final against Canada on terrestrial television.
"At one time, the critics of women's rugby were probably right," said Street. "The skill level wasn't good enough and the spectacle wasn't great.
"One IRB official was very anti-women's rugby when I first met him 10 years ago. He thought it was a nonsense. But he called me over after the final and was in shock, he had no comprehension that women's rugby looked like that.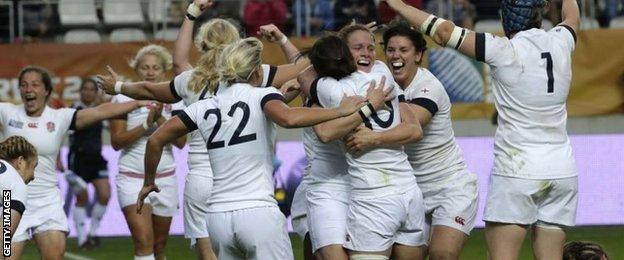 "He told me he went to Top 14 rugby every week and that it was terrible to watch. He'd gone from somebody who thought women shouldn't play rugby at all to somebody who'd rather watch women's rugby than men's.
"But there will always be cynical people who'll say 'women's rugby is not as good as men's rugby', so there's no point in having a turgid, non-skilled product. The kicking has improved massively but there's still a nice balance to the women's game, everyone wants to throw the ball around and play."
All this being the case, Street believes potential sponsors would be mad not to get involved. In centre Emily Scarratt, who scored a try and kicked 11 points in the final, they even have an ideal poster girl, a female Jonny Wilkinson.
"If I become that role model for just one person then that will be an amazing feeling," said the 24-year-old Scarratt, a PE teaching assistant. "And if they go on to emulate what we have been able to do it would be something special."
The RFU's figures suggest there is more than one girl looking for someone to look up to: there are 18,000 registered female rugby players in England, up from 7,500 in 2004. The RFU want another 10,000 before the 2017 World Cup, which has been brought forward so as not to clash with the Sevens equivalent.
But despite all this understandable optimism, it is wrong to assume that the only way is up for the 15-a-side women's game, because the inclusion of women's Sevens at the 2016 Olympics in Rio means many countries' rugby boards are investing their hard-to-come-by money in the shorter form of the game.
Bizarre as it might sound, the Netherlands were the first to award professional contracts to their female Sevens players. Australia, New Zealand, Ireland, South Africa, Canada, the United States, Russia and Spain have since followed suit.
New Zealand, who beat England in three 15-a-side World Cup finals between 2002 and 2010 but failed to progress from the group stages this year, might now argue that Olympic gold is a greater prize than a World Cup-winners medal in XVs.
The Black Ferns won the first two IRB Women's Sevens World Series, which suggests where their priorities now lie. Australia's Emilee Cherry, the women's sevens player of the year, has never even played the longer form of the game.
Great Britain will be represented by England in Rio, assuming they are the highest-ranked British team at the time. But a stand-off between the RFU and UK Sport as to who should fund an English/British team means its Sevens players are still part-timers, although that could be about to change.
"Sevens is an opportunity but it is also a threat," admits Street. "But the message from the performance department at the RFU is that they are absolutely behind the 15-a-side team. Sevens is great but of the 18,000 girls playing rugby in England at the moment, about 17,880 of them play XVs."
While the bigwigs decide on the future of the women's game, the players themselves will be back at their day jobs. Teaching small kids, curing sick animals, rubbing down tight legs, tinkering under faulty kitchen sinks.
"I go back to work on Thursday," said Packer the plumber. "It could be a blocked toilet, a leaking pipe, changing a tap washer. There's lots of talk going on in the background but I'm just going to enjoy this little bit of gold around my neck."