England Women's Rugby World Cup winners want professionalism
Last updated on .From the section English Rugby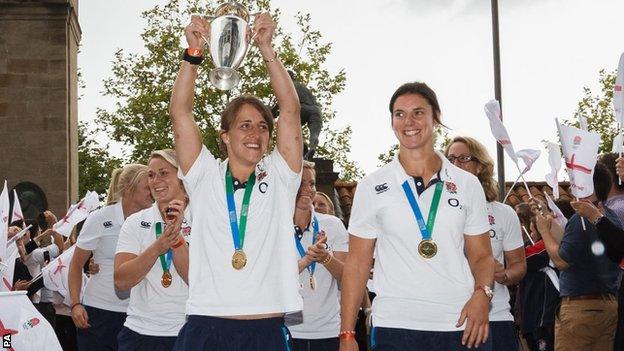 England's World Cup winning women feel a move to professionalism is necessary to stay competitive on the world stage.
However, any move must be "viable" and "sustainable" in the long-term, said captain and fly-half Katy Mclean, 28.
Vice-captain Sarah Hunter added: "If other nations turn professional and move forward we might get left behind."
The Rugby Football Union is yet to comment on plans to make the women's game full-time or award central contracts to its national players.
Some of England's squad and their "day jobs"

Katy Mclean (captain) - primary school teacher

Marlie Packer - plumbing and heating engineer

Sarah Hunter (vice-captain) - RFU university rugby development officer

Margaret Alphonsi - athlete mentor manager for the Youth Sport Trust

Danielle Waterman - unemployed (studying masters degree part-time)

Kay Wilson - sports development student

Katherine Merchant - personal trainer

Sophie Hemming - veterinarian
England beat Canada 21-9 in the final in Paris on Sunday to secure their first World Cup win in 20 years and Hunter, 28, believes the demands in the game now make holding down a full-time job a difficult situation to balance.
"For now, it's all about making sure the players have the support in place to make their lives easier and add value," she added.
"But we need to make sure the debate doesn't take away from the achievement of actually winning a World Cup."
Full-time primary school teacher Mclean said that England had to win the World Cup "to have any credibility about arguing for professionalism", before pointing out that "half the Canada side we beat in the final are full-time sevens players".
Women's Sevens will make its Olympic debut in Rio in 2016. The Netherlands were the first to award professional contracts to their female Sevens players. Australia, New Zealand, Ireland, South Africa, Canada, the United States, Russia and Spain have since followed suit.
"There's a huge marketing profile now for the game's authorities to work with," Mclean said.
"I'm sure the Rugby Football Union are already busy talking about it.
"The number of interviews we've done since the World Cup final where we've been asked questions about professionalism just adds fuel to the debate."
Former England captain Catherine Spencer hopes the Olympics sevens tournament at Rio will act as a springboard for the future of the women's game.
"Having sevens there for the first time will lead to more funding, but the 15-a-side game is the real 'bread and butter'," the two-time World Cup runner-up said.
"Ultimately, a move to professionalism will need support from around the world, rather than just one country.
"I think the next World Cup in 2017 might be too soon, but I'd like to think by the World Cup after that and the one that follows, the game will be ready."