Cornish Pirates chairman urges fans to help the club's finances
Last updated on .From the section Rugby Union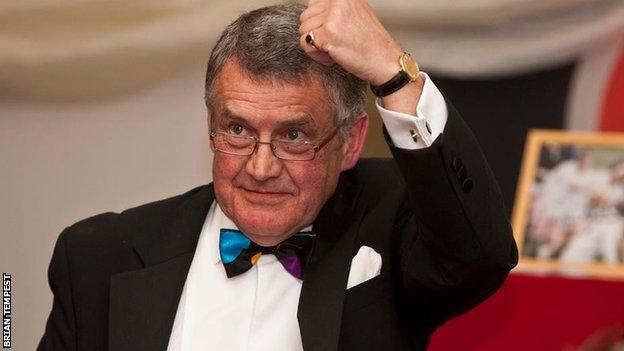 Cornish Pirates chairman Ian Connell has appealed to his side's fans to do their part to help the club's finances.
Connell after long-time owner
"We've got to get our true supporters to bring a friend, bring a family member, bring a work colleague, to the games this year," Connell told BBC Radio Cornwall.
"We've got to inject new revenues into the match day."
Evans financially backed the club for almost two decades as they progressed from the amateur ranks to the second tier of English rugby.
Despite selling his interest in the club he has signed a two-year sponsorship deal with the Pirates, ending in the summer of 2016, by which time Connell hopes the Penzance-based club will have
"At this time of the year the challenge is always there because we know what our season ticket revenue is, we know by-and-large what our sponsorship revenue is. What we do not know is what is going to be the income from match-day attendances," Connell said.
"That's why I make this appeal about hardcore supporters who are genuine, strong supporters of the Pirates. I appeal to them to see if they can persuade other people to come and enjoy the experience.
"We have reduced costs in other areas, we have a budget for match-day income which is slightly less than it was for last year, but we're looking to beat that by a handsome margin."
And Connell reaffirmed his stance that future of the Pirates lies away in a new stadium in the county's capital of Truro.
"I think playing in Truro is an absolute must, it's vital," he said.
"If Cornwall itself wants to have professional rugby in the top echelons of the English game being played on a weekly basis in Cornwall then that game has to be played in Truro.
"There is no other location in the county that would suit the sponsorship requirements, the attendance requirements and the general multiplier effect of visiting supporters filling up restaurants, hotels and pubs."