Cardiff Blues: Adam Jones says Sam Warburton has to play
Last updated on .From the section Rugby Union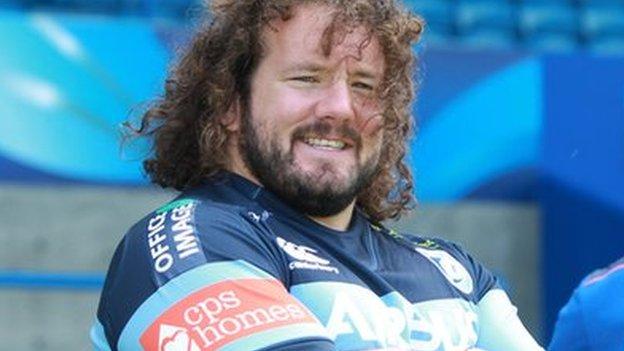 Adam Jones says the row in Welsh rugby needs to be resolved so Wales captain Sam Warburton can play for his region.
The former Osprey said: "As much as you can train, it's the 80 minutes on Saturday that is the important thing.
"If he [Warburton] isn't getting that, someone seriously needs to do something."
Warburton, 25, did not feature in the Blues' 17-24 pre-season defeat against Exeter as he is on a central contract with the WRU - the only player to have signed such a deal.
"If you've got the national captain not being able to play rugby, it's a strange one," said Jones.
"It doesn't happen in many places, but this type of thing generally does tend to happen here. I hope for the sake of Sam... I hope it gets done as soon as possible.
The four Welsh regions - Blues, Dragons, Ospreys and Scarlets - represented by Regional Rugby Wales (RRW) are partly funded through the deal with the WRU.
In return, they release players for Wales' national squad training when required, for matches in the International Rugby Board Test window and also for international games that fall outside the period set aside for Tests in the IRB calendar.
What is a central contract?
"A player's contract is held by the Union and not by his club, province or region. The Union, which pays his wages, can then determine where, when and even what position he plays. New Zealand, Ireland, Australia, South Africa and Scotland all have their own variations of a central contract."
Central contracts were not covered by the previous agreement, which ended on 30 June.
In July, RRW warned that they had a legally-binding agreement not to pick any centrally-contracted players.
Prop Jones, who has been capped 95 times by Wales, trained with former club Neath after leaving the Ospreys.
"I was going to sign for the Ospreys once this thing got done but there's only so long I could hang on.
"I had a few offers in France but they didn't suit me but this one did so I had to take it."