Fly-half Ian Humphreys happy to be back at Ulster
Last updated on .From the section Rugby Union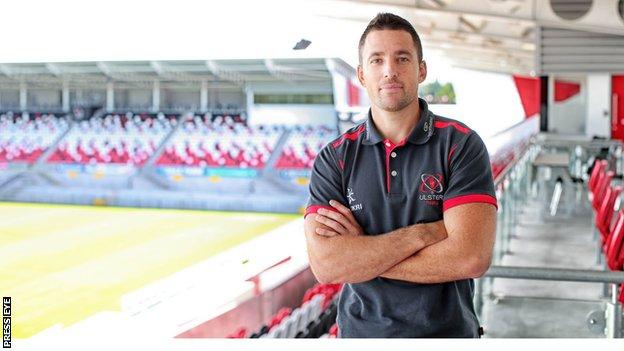 Ian Humphreys says he would have rejoined Ulster regardless of whether his brother David remained with the province or not.
The 32-year-old is excited to be back at Ulster for a second time following a two-year stint at London Irish.
His older brother David resigned as Ulster's Director of Rugby in May to take up a similar role with Gloucester.
"I'm back here regardless, it wouldn't have changed my decision if I'd known he (David) was leaving," he said.
Speaking for the first time since his return to his native province, Humphreys said his older brother "didn't really have much to do with my negotiations coming back".
"To keep things simple it was taken out of his hands.
"Professional sportsmen are always coming and going all over the place, he got an opportunity to move on and do what he wanted to do.
"I'm back here because I want to be here and I want to be part of Ulster rugby. We have a great set-up here and I'm sure he'll do really well there (Gloucester) as well.
"He's got to do what he thinks is right for his family and I'm doing what's right for mine. We talk regularly, so it'll be interesting."
Humphreys' last game for Ulster was the Heineken Cup final defeat to Leinster at Twickenham in May 2012, and he hopes to be involved in Saturday's pre-season friendly against the same opponents in Tallaght.
Ulster have failed to win a trophy in recent seasons, despite their ambitious plans on and off the pitch, but Humphreys believes the landscape has been transformed so dramatically that there can be "no excuses" for poor performances.
"We now have a stadium which matches the ambition of the club. It's really imposing when you drive up to it and it inspires you when you drive through those gates.
"The way the stadium is now, there are no excuses for not performing on a Friday night. We're creating a culture of no excuses, whether it's on the training paddock or knowing your role on the field."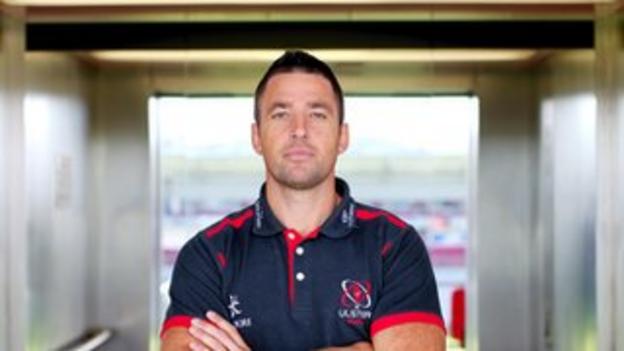 With Paddy Jackson firmly established as Ulster's first choice number 10, Humphreys accepts his opportunities will be limited this season.
As the second oldest member of the squad, he realises his experience will be utilised in all sorts of ways.
"That's one of the reasons I was brought in, to add a bit of experience, and I understand my role is partly that. but I want to play in as many games as I can.
"In terms of (playing) 10, I know Jacko is there and he is in pole position. All I can do is play as well as I can in the opportunities I do get, in the friendlies and when he's away with the internationals.
"Being away for two years has shown me that I've really got to appreciate my time here, because it's a special place, and I don't want to let my time pass by without enjoying it."