Brian Smith: London Irish coach promises silverware fight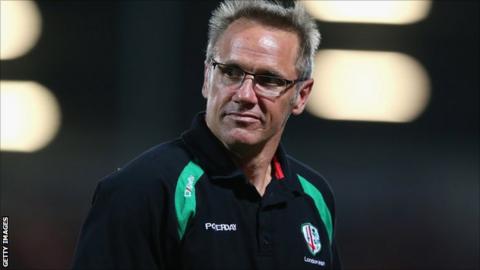 London Irish boss Brian Smith has vowed his side will mount a serious challenge for silverware this season.
The Exiles have struggled in the past couple of years, but Smith says it is important his side capitalise on the momentum from the new owners.
"We play in three different competitions and it's important we are fighting for silverware in one of those," Smith told BBC Sport.
"We'll be going all out in the European Rugby Challenge Cup."
The Exiles finished 10th in the Premiership last season and the summer has seen them move into a new multi-million pound training facility, as well as embark on a heavy recruitment drive.
Smith is happy with the new faces in his squad, although admitted they had so far failed to add a marquee signing, following the departure of England winger Marland Yarde and Australia full-back James O'Connor.
He did, however, say they had not given up on bringing in a star player over the course of the season.
"There is no marquee signing, we will keep an open mind on that," he said.
"It's important with those signings they are genuine marquee players, so at this stage we are keeping that spot open. We're pushing the boat out more than we have recently.
"With the new owners there is a big commitment to spend up to the salary cap and we don't have a marquee signing yet, so we still have a little bit of room if and when we decide that is the right thing for the club."
Irish, who open their season against Harlequins on 6 September, have put a lot of resources into strengthening their forward unit and Smith is aware they are under pressure to show a noticeable improvement after the struggles of last season.
"It's a competitive league," he said
"Each year every club seems to be investing a lot into resources, facilities and staff, so gone are the days when you can go from 10th to third. That's not going to happen, not in this structure.
"The most important thing from our point of view in terms of success is taking steps forward. We are anxious to make sure they are big strides and if we can have a winning season.
"In the Premiership for London Irish supporters there is a new energy at the club, the new owners have made a commitment to grow the academy and we are striving for success.
"It is not going to happen overnight, if it does that will be a pleasant surprise but it's a competitive league.
"Our fans can expect we will be fighting for silverware in at least one of the competitions and striving to be genuine contenders in the league."