Wales coach Warren Gatland praised for part in peace deal
Last updated on .From the section Rugby Union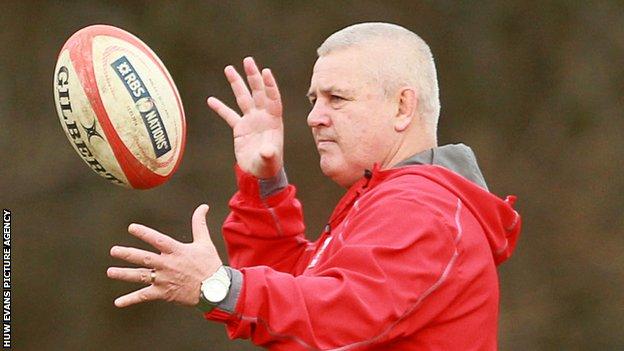 Wales coach Warren Gatland has been praised for his part in Welsh rugby's £60m peace deal.
The six-year agreement signed on Thursday ended 18 months of conflict between the Welsh Rugby Union (WRU) and the four Welsh rugby regions.
Regional Rugby Wales (RRW) chief executive Mark Davies said Gatland was "pivotal" and gave a "great deal of time" to the process.
"Without Warren we couldn't have got to this stage," said Davies.
"His relationship with the regional coaches now is critical."
Davies hopes any future differences between the two sides will be resolved more smoothly.
"'The process has been protracted... it's been tortuous... and at times uncomfortable," said Davies.
"We'll all look in the mirror and think maybe it could have been done better."
The new agreement, which runs until 2020, means a minimum of six key home-based internationals will be on dual WRU-regions contracts.
Players based outside Wales could also be overlooked in favour of home-based talent with Gatland tightening selection policy.
Each of the regions - Cardiff Blues, Newport Gwent Dragons, Ospreys and Scarlets - will only be able to sign six non-Welsh qualified players.
The new selection policy rules that no player based overseas can represent Wales, although Gatland is able to make exceptions.
Players currently based outside Wales will be exempt from the new selection rules while their contracts run.
Gatland will also decide which players will be offered dual contracts, with the WRU contributing 60% funding for those new deals with star players, and the regions the remaining 40%.
Key points of the new deal
WRU increases regions' funding from £6.7m to £8.7m
Top home-based Test stars to be offered dual-contracts
Wales coach Warren Gatland to decide who is offered dual deals, those players to become WRU employees
Home-based players to be favoured in Wales selection
The £8.7m includes £2m set aside for dual contracts, with regions adding another £1.3m a year
Wales A games to return from January, 2015
The regions will all receive a shared £2m increase in overall funding, to £8.7m, from the Union as well as a one-off payment of £500,000.
Davies described the new arrangement as "reasonable and fair" and said it will allow the regions to improve.
"We as regions feel we are now in control of our destiny and our commercial interests," said Davies.
"We'll be able to invest more in squads going forward."