How do players avoid burnout before the Rugby World Cup?
By Chris Jones
BBC Radio 5 live
Last updated on .From the section Rugby Union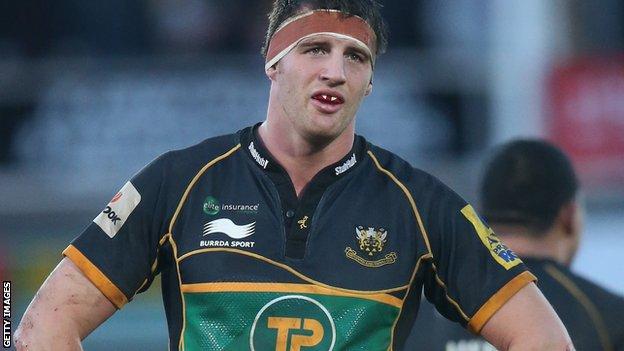 Thursday, 18 September, will mark exactly one year until England open their Rugby World Cup campaign on home soil against Fiji at Twickenham.
For the players, it will be the start of the final, and most important, chapter, of a gruelling period - beginning on Friday as Aviva Premiership champions Northampton entertain Gloucester - which could extend to 14 months if England reach the final on 31 October 2015.
The matches come thick and fast. Six straight rounds of domestic action are followed by back-to-back weekends of European Cup rugby, ahead of the November internationals. Immediately after New Zealand, South Africa, Samoa and Australia come to town, European action returns, with consecutive weekends of thunderous competition.
This is all before Christmas. The World Cup may be near, but it is also miles away. And while physically the players are in constant danger in the modern game, so too are they mentally vulnerable, with leading players warning that unless appropriate steps are taken, the prospect of "burnout" ahead of the World Cup is very real.
"It's always a possibility," the Northampton and England flanker Tom Wood told BBC Sport. "I've been available for selection every week for the past two years, and have played a lot of rugby. It's something you have to be aware of without being fearful of."
Road to 2015 RWC for elite British & Irish players

Month

Competition

Sep-mid Oct 2014

6 Premiership & Pro 12 fixtures

Mid-end Oct 2014

2 rounds European Rugby Cup / Challenge Cup

Nov 2014

3/4 autumn internationals

Dec 2014

2 rounds European/Challenge Cup, 2 rounds Premiership/Pro 12

Jan 2015

2 rounds Premiership/Pro 12; 2 rounds European/Challenge Cup

Feb-Mar 2015

5 rounds of Six Nations, 1 round Premiership/Pro 12

April 2015

2 rounds Premiership/Pro 12; European quarter-finals & semi-finals

May 2015

2 rounds Premiership/Pro 12; Play-offs & finals; European finals

June-July 2015

World Cup training camps

Aug-Sep 2015

2/3/4 World Cup warm-up Tests

18 Sep - 31 Oct 2015

Rugby World Cup (up to 7 Tests)
After a stressful end to last season, which included dramatic victories for Saints in the Premiership semi-finals and final, followed by England's tour of New Zealand, Wood only managed three weeks away from rugby before pre-season rolled around again.
And with the Saints likely to again be in the play-off mix next May, Northampton's red rose contingent will have only three weeks' rest before convening for England's World Cup camp at the end of June.
Wood, 27, accepts that with the relentless schedule, keeping the body and mind fresh over the next 12 months is going to be difficult.
"It's a huge challenge because every game is important," he said. "For us as players it's about making sure we take care of details at the club and also at home: eating well, sleeping well, doing all the little bits you can to make sure you are recovering and freshening up.
"Sometimes [it's a case of] getting away from rugby when the opportunity presents, whether it's a little holiday, getting out on the river bank fishing, a round of golf - just clear your mind and get away from rugby, so you stay mentally fresh as much as anything."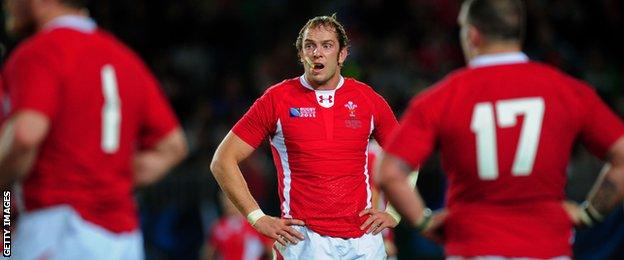 Northampton director of rugby Jim Mallinder agrees, and says there will come a time when he has to put the players' welfare first and leave them out of the Saints' squad for a match or two, looking at the bigger picture.
"Definitely, I think that is going to happen this year," Mallinder told BBC Sport. "We have got to be mindful. We want them playing well for England and Saints, and getting the balance right is tough."
Welsh region the Ospreys have already taken a step in the same direction, opting to rest captain Alun Wyn Jones for their Pro 12 opener against Treviso on Friday, with assistant coach Gruff Rees citing the Wales lock's "big year" ahead.
Last season, Harlequins director of rugby Conor O'Shea left out a trio of his England stars for the crucial London derby with Saracens at Wembley, a fixture that came immediately after the Six Nations.
It was a move that was widely questioned at the time - especially after Quins were well beaten - although later in the season the club rallied to reach the play-offs, with Chris Robshaw, Danny Care and Mike Brown all playing key roles in the run-in.
O'Shea has already taken steps to monitor England skipper Robshaw's workload this season, relieving him of the Quins captaincy.
"Chris has had a lot on his plate, and with the season that's ahead with the World Cup, it's about relieving a bit of the pressure on him," O'Shea explained. "The captaincy is not just a physical issue, it's a mental issue.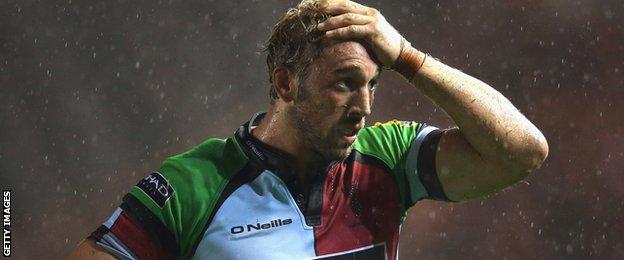 "Physically the players are incredibly well looked after, and we will make sure they play the right amount," he added.
In recent years, the Irish provinces have regularly rotated their squads, allowing key players some time off during the Pro 12 season. With qualification for the old Heineken Cup guaranteed, the likes of Munster, Ulster and Leinster were able to prioritise big European fixtures over routine league encounters.
But with changes to the qualification process in place for the new European Rugby Champions Cup, the provinces may have to adjust their selection policy.
"Meritocracy is a new dimension that none of us have actually felt in the Pro 12," explained Leinster head coach Matt O'Connor. "So that will change things slightly. But we're lucky enough to have a very strong squad, and if there are guys that need rested at certain stages we would back the squad to come through."
With the provinces working under the governance of the Irish Rugby Union (IRFU), the condition of the players will continue to be critical according to O'Connor, especially leading into the World Cup.
"That's a priority for Ireland," he added. "They will be looking to make sure their key guys especially are in tip-top shape for the World Cup."
How many games should an elite player play?
RFU's elite player agreement with clubs recommends a maximum of 32 per season across all competitions - domestic, European, international
One game equates to an aggregate of 80 minutes, so for example 50 minutes in one match and 30 in another equates to one game
Although an England international is likely to play more than his Irish counterpart over the next year, the Rugby Football Union - which insists their top players play no more than 32 games a season - is confident player welfare will be a bigger priority than ever over the next 12 months.
"England Rugby and the professional clubs work closely together through the Elite Player Squad (EPS) agreement to ensure that there is a commonsense approach to player welfare and management, particular in a Rugby World Cup year," an RFU spokesman told BBC Sport. "This is underpinned by the strong relationship that England head coach Stuart Lancaster has with the directors of rugby.
"The players will be given appropriate rest periods for mental and physical regeneration from the end of their season before starting World Cup preparations, and also there will be designated breaks in the camp leading up to the tournament to ensure they arrive in peak physical condition and can sustain that throughout the 2015-16 season."
However, being rested for club matches isn't always possible or preferable. With fierce competition every week both domestically and in Europe, Wood admits a player's loyalty to his club can be an overriding factor, regardless of whether there is a World Cup on the horizon.
"Obviously if you have injuries in the squad you may have to stay in the trenches and take grenades for a while," Wood admits. "But then sometimes when everyone is fit and fresh you perhaps don't want to wave the white flag and surrender because you need to be competing.
"You never want to surrender your shirt, because someone will come and take it from you. But eventually you burn out if you do that week in, week out."
Hear more from Tom Wood on BBC 5 live rugby on Tuesday, 2 September from 2100 BST when Matt Dawson will be joined by Wasps and England flanker James Haskell among others for a comprehensive preview of the new rugby union season.