Mike Blair: Edinburgh & Glasgow looking strong for Pro12 season

By Mike Blair
Former Scotland scrum-half
Last updated on .From the section Rugby Union20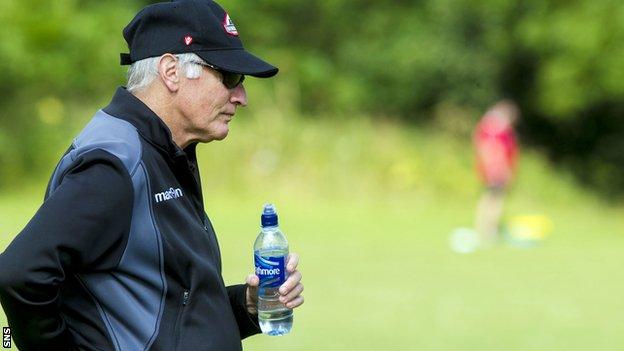 Scotland's professional teams Edinburgh and Glasgow seem to have a bit more stability about them going into the 2014-15 season.
For a start, my old team Edinburgh have the luxury of beginning the campaign with the same coaching team as the one that ended the previous season.
Players will know what is expected of them and through a rigorous pre-season conditioning block, focusing on rugby specific fitness, translated through exercises such as wrestling and 100kg tyre-flipping, they should be in a position to follow Allan Solomons's orders.
The head coach has his way of playing and a heavy emphasis is put on the contact area in defence, preserving the ball and giving nothing away easily.
He will more than likely play Greig Tonks at stand-off, mainly due to his canon-like left boot, but also for his composure on the ball and consistency of performance. The percentage game that Solomons coaches suits Tonks perfectly.
Having played against Edinburgh for Newcastle in a friendly last Friday, I can tell you first hand that their work at the defensive breakdown is impressive.

Coach Omar Mouneimne has enthused the Edinburgh players and given them free-reign to cause disruption at the breakdown with swinging legs, counter rucking and jackling all in evidence last week, and indeed against Leicester the week previously. Ross Ford and Fraser Mackenzie in particular were to the fore.
The attacking game of Edinburgh is based on teamwork and grinding the opposition down. They will use their heavy forwards running off any one of the three excellent scrum-half options they have on their books, often with another forward 'latched' on to the ball carrier.
The backs might not see too much of the ball initially but Tonks has a lovely range of short passes and deception plays if required, and should Tom Heathcote push his way into contention then he's a lovely distributor of the ball.
In terms of individuals, Scotland and Edinburgh fans will be delighted to hear that Tim Visser has been looking very sharp on the ball and we were on the receiving end of another of his try doubles last week.
Edinburgh should win more matches than they lose in the Pro12 this season but their lack of an 80% goal-kicker could prevent them from seriously challenging for play-off qualification.
One to watch: Greig Tonks
Along the M8, Glasgow have retained the vast majority of their squad that finished runners-up in the Pro12 to Leinster last year, and their target this term must be to go one better and win it.
Their pre-season has been far from the norm due to many players being involved with Scotland tours and Sevens.
Head coach Gregor Townsend, known for thinking outside the box, opted to give those not involved in summer tours only 10 days off at the end of the season and then a five-week training block before their four-week holiday.
Once the tours concluded, the players were given a four-week holiday, resulting in the whole squad arriving back to pre-season on the same date.
They were streamlined and focused on the task ahead. They also spent two weeks in France to avoid the pandemonium of the Commonwealth Games. Not your traditional pre-season, but one that certainly breaks up the monotony of the same gym walls.
Last year, in the first few months of the season, results were being ground out, but there was a lack of fluency in Glasgow's game and they weren't clicking, although their defence and work ethic were top drawer.
The team was being chopped and changed a bit, which was possibly causing some of the issues, but as the season progressed the team started to almost pick itself and this is when we saw the impressive Townsend imprint on their attack; offloading, pace and variation.
It will be interesting to see how he approaches the start of this year's campaign, because in terms of squad ethos it's fantastic to give players opportunities to impress and also balance the workload - but at the same time consistency of selection breeds confidence and understanding. Head coach is a tough job.

Glasgow have had remarkable consistency in the Pro12 for the last three years but the key is how to go one better than last year. They will have learned a lot from their defeat in the final against Leinster.
Finals rugby is different, small decisions have big consequences. And it's thinking clearly under pressure that is the difference between winning and losing. You only get this from experience though, and the Glasgow squad will be in a better position now than before to deal with it.
Glasgow are in an excellent position in terms of squad strength, culture and determination to make the play-off stages again. Come the end of May next year we should know whether they have learned their lessons.
One to watch: Alex Allan