Guernsey Rugby: Jordan Reynolds aiming for top-four spot
Last updated on .From the section Rugby Union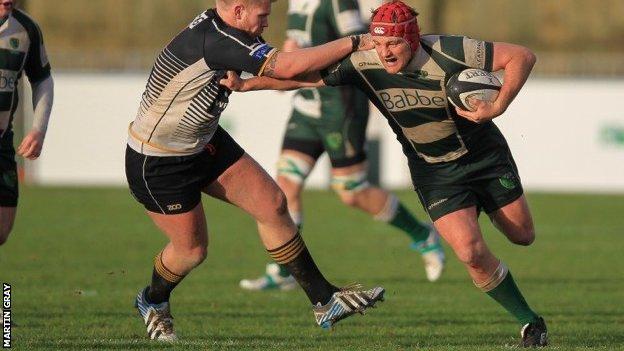 Guernsey Rugby coach Jordan Reynolds believes his side are capable of achieving a top-four finish this year.
Following restructuring around a number of the leagues, only the four highest teams will be promotion to National Two London and South East.
"We are going to have to perform as well as we did last year and have an ever better start," he told BBC Radio Guernsey.
"Then we have every chance of rising to the top and getting into National Two."
Guernsey finished sixth in the National Three London and South East league last year, where they will compete once again, and have brought in Englishman Greg Smith, New Zealander Glen Walters and Australian Simione Sawene.
Malcolm Barnes has also rejoined the island squad having broken a bone in his neck last December.
Reynolds admitted competition for places has been a positive for his side while adding that the new faces will not disrupt the way they play.
"We have a lot of competition for places for the first time in some time, which is propelling us forward," he said.
"Our systems will follow on from last year, they worked really well for us in the second half of the season.
"It gives us far more of an attacking edge and at the end of the day we are an attacking pack but we are very mobile and it is about putting those guys in the right position to attack and that is what we try to do."