Saracens' Edward Griffiths criticises Premiership play-offs
Last updated on .From the section Rugby Union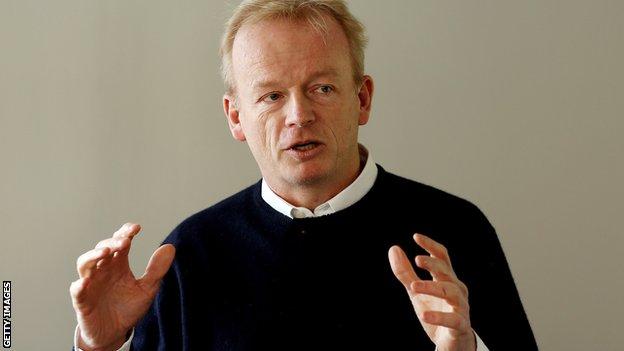 Saracens chief executive Edward Griffiths believes rugby's Premiership champions should be decided by the league table and not through play-offs.
Saracens have finished top for the past two seasons but have seen Leicester and Northampton go on to take the title.
"Premiership rugby is still at a stage where we have play-offs. We don't agree with that," Griffiths told BBC Sport.
"It's only there for money reasons and we don't think if anything is done purely for money it's the right thing."
He added: "We think a league where everyone plays home and away should be decided by the league champions which is what the Premier League in football does and every other mature league in the world.
"However, we have play-offs. We understand the rules and we play to them and we want to win the league again. Our aim is to win the league."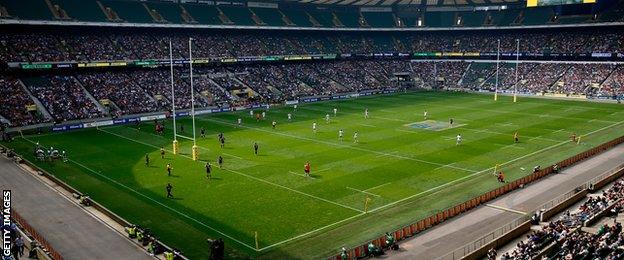 Griffiths acknowledges that the "toothpaste is out of the tube" where play-offs are concerned and that a majority of clubs are likely to go on supporting a system that gives them a greater chance of winning the Premiership.
"I completely accept and understand that," he said.
However, Griffiths is adamant money should not become the major driving force behind the sport's development.
"I think in rugby we have got something quite precious beyond the money," he added. "We have got a kind of discipline, an integrity and a decency within the sport that I think football hasn't got, that football lost some time ago.
"That's our special thing that we have got within rugby and we need to protect at all costs."
Saracens, who lost last season's play-off final to Northampton, won the Premiership title in 2010-11 after Leicester had finished top of the table at the end of the regular season.
The North London club began their Premiership campaign against Wasps at Twickenham on Saturday.