Warren Gatland's plan for more contracts to stop Wales exodus
Last updated on .From the section Rugby Union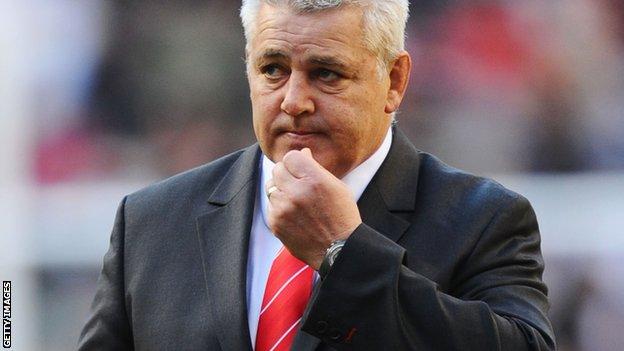 Wales coach Warren Gatland believes 10 to 15 dual contracts could be offered to help discourage the exodus of top Welsh players abroad.
The £60m deal suggested six players would be put on dual contracts, but now it appears the number will be higher.
"We could probably end up with between 10 and 15 players on dual contracts," said Gatland.
"I think we'll see players in the next year or two wanting to come back from overseas," he added.
"We've drawn up a list, that's not going to change significantly in terms of what's happening at the moment.
"The benefit for the players is a limited number of games that they play for the region and an extended period in the off-season to rest and recuperate.
"And then the benefit of the region is the union puts the money into helping fund those contracts."
Key points of the new deal
WRU increases regions' funding from £6.7m to £8.7m
Top home-based Test stars to be offered dual contracts
Wales coach Warren Gatland to decide who is offered dual deals, with those players to become WRU employees
Home-based players to be favoured in Wales selection
The £8.7m includes £2m set aside for dual contracts, with regions adding another £1.3m a year
Wales A games to return from January, 2015
Leigh Halfpenny,Jonathan Davies and Richard Hibbard became the latest Wales players to depart during the summer as the Welsh rugby dispute continued.
The WRU and four regions - Cardiff Blues, Newport Gwent Dragons, Ospreys and Scarlets - finally signed a six-year agreement in August 2014 to end nearly two years of dispute over funding.
The agreement, until 2020, means a minimum of six key home-based internationals will be on dual WRU-regions contracts.
Wales captain Sam Warburton, who had been left in limbo after becoming the first player to sign a central contract with the WRU, said that the system
Gatland agreed the change should put an end to top players leaving the regions.
"I think the player drain will slow down," he said.
"We're talking closely to a number of our players on a regular basis about when their contracts are up, and one or two of them are indicating that at some stage in the short future they would like to come back to Wales.
"What it comes down to, it's about looking after yourself physically, the medical side of things, the number of games that you play. A lot of them are potentially making the decisions to return back home."
But former Wales captain Gareth Thomas, who was the first Welshman to earn 100 caps, told BBC Scrum V that and would not have moved to Toulouse if it would have risked being selected for Wales.
Former Wales captain Gareth Thomas
"If I'd been told before I went to Toulouse 'if you go you won't play for Wales' then I wouldn't have gone to Toulouse.
"I wouldn't have sacrificed playing for Wales to play for a team in France."
Gatland conceded that there is "pressure on players not to leave," but added that he will be open-minded about selecting players from abroad.
"We've tried to get the balance right," said Gatland.
"We can't back ourselves into a corner where we are picking players who are only based in Wales, when we might have four or five eligible who are based outside.
"We can't discount that every once in a while there is a benefit to some players moving out of Wales and getting that experience, particularly if they are number two or number three in their position.
"They may not have the opportunity, so by going and playing over the bridge or in France, it could be good for them for a year or two."