Ospreys: De Kock Steenkamp wants to represent Wales
Last updated on .From the section Rugby Union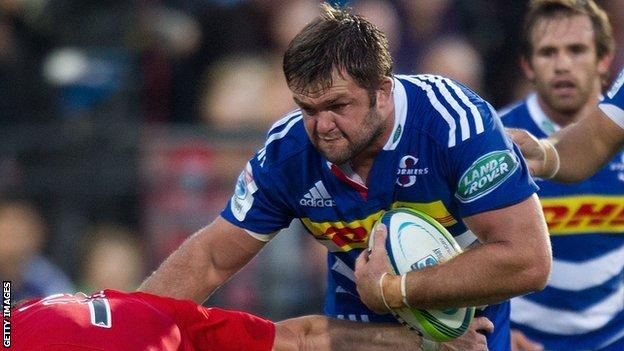 South African lock De Kock Steenkamp has set his sights on playing for Wales after signing for Ospreys.
As part of the recent £60m deal between the Welsh Rugby Union and four regions, each region can have up to eight overseas players but two must be "time-serving" for international duty.
Steenkamp's deal, approved by the WRU, covers the length of time it takes to qualify through residency.
"If I can play in three years' time for Wales, I'll be delighted," he said.
"As far as I know, [the] only foreigners that can come to Wales, they must be eligible to play for Wales in three years' time so that's why the contract is for three years," said the South African.
Steenkamp has been part of a Springboks squad before, but has never featured in a match.
Ospreys signed the 27-year-old from Super Rugby side Stormers on a deal which runs until 2017.
He will arrive at Liberty Stadium in late September to bolster a pack that has lost two Wales British and Irish Lions in Ian Evans and Ryan Jones.
Former Wales captain Michael Owen has described the rule which allows a foreign player to qualify for another nation as "a joke."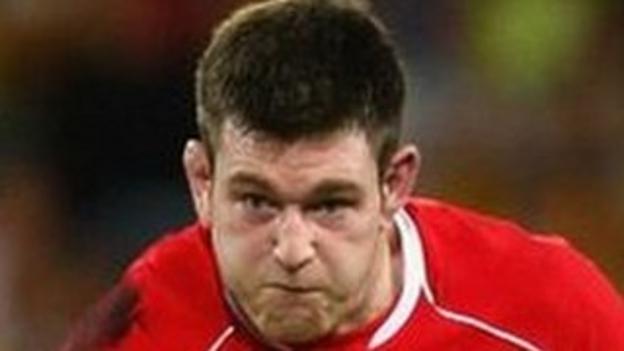 Owen is unhappy with the International Rugby Board [IRB] rules that allow such a scenario.
"The fact you can come over here for three years and as a professional rugby player and qualify to play for a country I think is a little bit farcical to be honest," Owen told Radio Wales Sport.
"I just think the law itself and the administrators of the IRB are the people who need to look at it and say is this right and just or is it just making a little bit of a mockery of international rugby and that's my position."
But Ospreys' forwards coach Chris Gibbes says the region's young pack will learn a lot from the new signing.
"De Kock will bring aggression, physicality and he's got a good lineout game, good understanding and he's been around the trap and we need that," Gibbes said.
"We could have chucked the young guys out there into the Guinness Pro12 and they could have got beaten up and not learned anything.
"We've looked at the development and progression of what these young kids need and this young pack and we've done what we think is the right thing."