Steenkamp must perform for Ospreys before Wales cap talk
Last updated on .From the section Welsh Rugby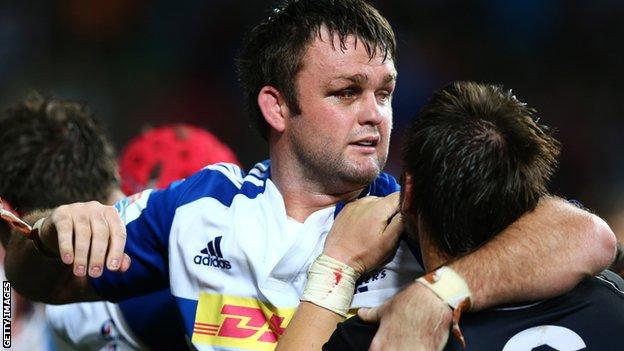 Wales' skills coach Neil Jenkins says De Kock Steenkamp should focus on playing well for Ospreys before thinking of a Wales cap.
But former Wales fly-half Jenkins said he has work to do between now and 2017.
"I'm sure he has aspirations to play Test match rugby but I think the first thing for him would be to settle himself in," Jenkins said.
"If he's good enough and he's still here in three years' time, I'm sure Gats [Warren Gatland] and whoever's in charge at that time will look at him.
"Who knows? Three years' time is a long way away."
Steenkamp, 27, who has been called up to a Springboks squad but never represented his country, signed from Super Rugby side Stormers on a three-year deal.
That is the length of time it takes for a player to qualify for a national team on residency grounds.
Each region is allowed up to eight overseas players but among them must be two "time-serving" for international duty.
At Ospreys, these players are Steenkamp and 22-year-old fellow South African Rynier Bernardo who signed a three-year deal in April.
The 87-times capped Jenkins said any player who is good enough should be considered for the national side, regardless of how they meet the eligibility criteria.
"Anyone who can make Wales better and is willing to pull on the red shirt and show what it means to them, most definitely," Jenkins said.
"If the players are good enough and certainly want to play for Wales and make that intention clear... I'm sure they'll play."